January 21, 2013 -
Joe Fortenbaugh
49ers head to New Orleans as a 4-point favorite
The read option, Chip Kelly, quarterbacks who can do it all. We're fixated with NFL offenses and the direction in which the league is heading. But when Sunday's games were on the line with a trip to the Super Bowl hanging in the balance, it was the defensive side of the football that reared its head and closed the show.
San Francisco and Baltimore combined to surrender exactly zero points during the second half of Sunday's championship action. The Niners sealed the deal with a monstrous fourth down stop as the clock inched its way toward 00:00, while the Ravens forced quarterback Tom Brady to produce his worst QB rating of the 2012 campaign (62.3).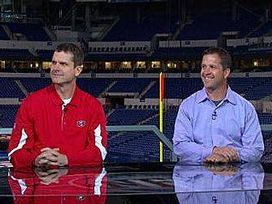 Didn't you hear? It's Harbaugh vs. Harbaugh for the Super Bowl.
Sure, offense wins games. But as the old adage goes, defensive wins championships.
On the heels of impressive performances from the NFL's two Harbaugh-led football teams, the San Francisco 49ers currently reside on the board as a 4-point favorite over the Baltimore Ravens for Super Bowl XLVII in New Orleans. San Francisco opened anywhere from -4.5 to -5, but some early Baltimore money forced bookmakers to adjust their numbers south. Prior to Sunday, the look-ahead line for a 49ers-Ravens Super Bowl was San Francisco -6.
But perhaps instead of fixating on the side for the Baltimore-San Francisco showdown, we should pay a bit of attention to the total, which has already encountered some significant movement. After opening as high as 50.5 on Sunday, this year's Super Bowl total has already been adjusted as low as 47.5.
The last 15 Super Bowl have produced a scoring average of 46.6 points per game, with eight unders and seven overs. The average closing total for the last 15 Super Bowls checks in at 48.1. Take note that only two of the last eight Super Bowls have seen more than 50 points on the scoreboard by the end of the game.
We'll be diving into far greater detail in coming weeks, with our top prop recommendations as well as our annual Super Bowl betting preview scheduled to hit the site in the near future. But for now, we just wanted to get you thinking.
And for those of you who are already looking ahead to next season, here are the odds to win the 2014 Super Bowl, courtesy of the LVH here in Las Vegas.
Early leans: New Orleans (16/1), New York Giants (20/1), Indianapolis (40/1), Tampa Bay (50/1).
New England Patriots: 6/1
San Francisco 49ers: 8/1
Denver Broncos: 8/1
Green Bay Packers: 10/1
Houston Texans: 10/1
Seattle Seahawks: 12/1
Pittsburgh Steelers: 14/1
Baltimore Ravens: 14/1
Atlanta Falcons: 16/1
New Orleans Saints: 16/1
New York Giants: 20/1
Washington Redskins: 30/1
Chicago Bears: 30/1
Cincinnati Bengals: 30/1
Dallas Cowboys: 30/1
San Diego Chargers: 40/1
Detroit Lions: 40/1
Minnesota Vikings: 40/1
Indianapolis Colts: 40/1
Philadelphia Eagles: 40/1
Carolina Panthers: 50/1
New York Jets: 50/1
Miami Dolphins: 50/1
St. Louis Rams: 50/1
Tampa Bay Buccaneers: 50/1
Cleveland Browns: 50/1
Kansas City Chiefs: 50/1
Tennessee Titans: 100/1
Buffalo Bills: 100/1
Arizona Cardinals: 100/1
Oakland Raiders: 150/1
Jacksonville Jaguars: 150/1
Hit me up on Twitter: @JoeFortenbaugh