May 26, 2011 -
Joe Fortenbaugh
5 great choices for the next Hard Knocks
Hard Knocks, the Emmy-award winning HBO reality sports documentary that has captivated football fans for each of the last four years currently finds itself playing the role of the ugly girl with braces.
Nobody wants to dance with her.
The Tampa Bay Buccaneers, Atlanta Falcons and Detroit Lions are just three of the NFL teams that have already stated they have no interest in appearing on the next installment of the program. While most are using the excuse that it would be a distraction to have HBO follow their teams around for a few weeks, it's still intriguing to see organizations with attendance issues such as the Buccaneers and Lions turning down a golden opportunity to market their franchises.
But as they say, one man's trash is another man's treasure.
With the network still apparently undecided, here are five teams HBO should seriously consider for the next edition of Hard Knocks (followed by five teams they should absolutely not consider):
5. Baltimore Ravens: There's a reason why ESPN has been running that Ray Lewis interview for what seems like the last 18 days: The guy is as passionate and engaging as they come. And at 36-years-old, we only have so much time left with Ray Ray before he rides off into the sunset. Yes, the Ravens were on Hard Knocks back in 2001, but this is a Super Bowl contender loaded with storylines. Imagine watching Lewis and safety Ed Reed take troubled rookie cornerback Jimmy Smith under their wings. Or watching Joe Flacco try to prove his naysayers wrong by taking the next step and emerging as an elite NFL signal-caller. I guarantee that you would be tuning in every week just to see what Ray Lewis says next.
4. Washington Redskins: America loves a good train wreck, which is why HBO would be wise to sign up the NFL's version of "The Jersey Shore." You've got a clueless owner in Daniel Snyder, a Super Bowl-winning coach who is in over his head in Mike Shanahan, a locker room cancer in Albert Haynesworth, a loudmouth prima donna in DeAngelo Hall and a quarterback controversy between two guys (Rex Grossman & John Beck) who have no business being involved in a quarterback controversy (unless it's for the third spot on the depth chart). This would be more about drama and dysfunction than it would football, which is exactly why it would sell.
3. New Orleans Saints: Between the earthquakes in Japan and the recent tornados in Missouri, why not pick a team that's already been to hell and back and emerged to win a Vince Lombardi Trophy? The epitome of inspiration, New Orleans would provide the perfect backdrop for a story about a team looking to get back to the Super Bowl after suffering one of the biggest upset losses in playoff history. Running back Mark Ingram—whose father is serving ten years in the can for money laundering and bank fraud—would be the perfect rookie to follow as he begins the transition from Heisman Trophy winner to NFL workhorse. If HBO goes with New Orleans, don't be surprised if defensive coordinator Gregg Williams steals the show.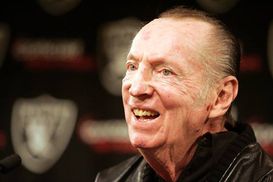 Could this be television's next big reality star?
2. Oakland Raiders: After seven consecutive seasons of double-digit losses, the Raiders finally broke through in 2010 with an 8-8 record. As a result of their newfound success, head coach Tom Cable was fired. Does that make sense? No, but when you look closely enough you'll realize that nothing in Oakland makes sense. Should HBO select the Silver & Black, they'd be wise to have a camera on owner Al Davis at all times. Then maybe, just maybe, we would finally figure out what kind of logic the mad genius employs when making decisions. Think "Lost" meets "Matlock."
1. Pittsburgh Steelers: Personally, I'm a bit shocked that there hasn't been more buzz about putting the team with arguably the biggest fan base in the country on the next installment of Hard Knocks. Currently three months removed from a Super Bowl loss, the Steelers have it all: A winning franchise rich with tradition, a personable, intense head coach and a quarterback that has gone from accused sex offender to husband-to-be in roughly one year. We'd get to hear James Harrison bitching about fines while Hines Ward gets his balls busted for appearing on (and winning) Dancing with the Stars. I don't know about the rest of you, but I would love to watch Hall of Fame defensive coordinator Dick LeBeau go about his business.
Come on, HBO. Make it happen.
5 teams I don't want to see on the next Hard Knocks…
1. Indianapolis Colts: This entire organization takes its cues from Peyton Manning. And while Manning is very entertaining in some of his commercials, I have a feeling this would be about as dry as a bar at an Amish family reunion.
2. Tennessee Titans: Unknown head coach, unknown quarterback and Chris Johnson. The only thing that could save this is if Andre Johnson appeared each week and beat up Cortland Finnegan.
3. New England Patriots: Before you go off the deep end and start screaming, hear me out. All of these guys take their orders from Belichick, who says next to nothing when it comes to the media. This whole series would likely focus on Brady's hair.
4. Denver Broncos: You know damn well HBO would make Tim Tebow the focus each and every week. I've had enough of that guy to last me a lifetime and he's only started three career games.
5. Jacksonville Jaguars: Even the people in Jacksonville don't want to see the Jaguars on the next Hard Knocks.
The comments section is open for business. If you were running HBO, which NFL team would you want to put on Hard Knocks?
Hit me up on Twitter: @JoeFortenbaugh