June 25, 2013 -
Joe Fortenbaugh
5 potential schedule pitfalls
Winning games in the NFL is no easy task. Winning games while playing on the road is even tougher. Winning games on the road while facing a myriad of additional detrimental factors is a different beast altogether.
Long travel, short rest, hostile environments and unfamiliar, inclement weather are just a few of the reasons that contributed to the 32 NFL franchises posting a combined 114-152-1 (.428) road record in 2012. But all road games are not created equal.
Last summer we took a look at a five-year trend (2007-2011) that saw NFL teams go 12-37 straight-up (.245) and 17-32 against the spread (.347) when playing a non-conference opponent on the road one week before a road date with a divisional rival. After completing the research, we found eight games on the 2012 schedule that offered up the same situation. Those eight games bucked the trend, with the road team in the non-conference showdown posting a 5-3 mark both SU and ATS.
That gives us a six-year record of 17-40 SU (.298) and 22-35 ATS (.385) for teams that visit a non-conference opponent one week before a divisional showdown on the road. To put that into more appealing terms, had you bet $110 to win $100 against the road team in each of those 57 non-conference matchups over the last five years, you would currently be in the black $1,080.
A thorough look at the 2013 schedule reveals that five such situations will occur this season. Here's a preview along with the opening point spreads from Cantor Gaming.
2013 REGULAR SEASON SCHEDULE PITFALLS
Week 3 (September 22): Chicago Bears at Pittsburgh Steelers
Cantor opening line: Bears +2.5
Why: The Marc Trestman era commences with back-to-back home games against the Bengals and Vikings before Chicago hits the road in Week 3 to take on a Pittsburgh Steelers team that has gone a staggering 17-1 at home against non-conference opponents since 2004. The Bears will look to snap the Steelers' nine game home winning streak against non-conference opposition before heading to Detroit for a divisional tilt with the Lions in Week 4.
Week 3 (September 22): Indianapolis Colts at San Francisco 49ers
Cantor opening line: Colts +7.5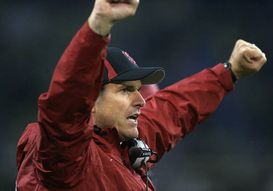 Jim Harbaugh and the 49ers are a tough out when playing at home in San Francisco.
Why: The Colts dip their toes in the water with home games against the Raiders and Dolphins before their first true test of the season, which comes in Week 3 at San Francisco. In two years under head coach Jim Harbaugh, the 49ers have gone 13-3 straight-up and 11-4-1 ATS in 16 home games. The Colts went 4-4 both SU and ATS on the road with Andrew Luck under center in 2012 and, should the team come up short at San Fran, will look to get the train back on the tracks the following week at Jacksonville.
Week 4 (September 29): Philadelphia Eagles at Denver Broncos
Cantor opening line: Eagles +7.5
Why: The Eagles have gone just 3-6-1 on the road against AFC opposition since 2008, with those three victories coming against league juggernauts Jacksonville (2010), Miami (2011) and Cleveland (2012). Throw in a dash of altitude, future Hall of Famer Peyton Manning and a Denver Broncos team that went 7-1 SU and 5-3 ATS at home last season and new head coach Chip Kelly will have his work cut out for him come Week 4, just seven days before the Birds travel to New York to take on the Giants. One positive piece of intel for Eagles backers: Philly enters the Denver showdown on extra rest thanks to a Week 3 Thursday night game against former head coach Andy Reid and the Chiefs.
Week 14 (December 8): Kansas City Chiefs at Washington Redskins
Cantor opening line: Chiefs +4.5
Why: Andy Reid went 17-11 against the Washington Redskins during his 14 years in Philadelphia, but came up empty in his only two tries against quarterback Robert Griffin III. Reid will look to buck that trend with the Chiefs in Week 14, but take note that this game is sandwiched in between divisional clashes with Denver (home, Week 13) and Oakland (road, Week 15). The 'Skins went 5-3 both SU and ATS at home in 2012.
Week 15 (December 15): Arizona Cardinals at Tennessee Titans
Cantor opening line: Cardinals +1
Why: Arizona's got problems. With the Niners and Seahawks expected to contend for the Super Bowl and the Rams on the way up thanks to head coach Jeff Fisher, the Cardinals could find themselves in the NFC West basement for the foreseeable future. As if that wasn't bad enough, new head coach Bruce Arians just signed on with a team that has gone a miserable 4-18 on the road against AFC opponents since 2002. And in the interest of piling on, Arizona's Week 15 road trip to Tennessee is game two of a four-matchup closing stretch that will see the Cardinals host the Rams, travel to Tennessee, fly up to Seattle and then return home to play San Francisco. Good luck, Arizona. You're going to need it.
Hit me up on Twitter: @JoeFortenbaugh
2007-2012 RECORD FOR NFL TEAMS IN ROAD GAME VS. NON-CONFERENCE OPPONENT WEEK BEFORE ROAD GAME VS. DIVISIONAL OPPONENT