February 18, 2011 -
Joe Fortenbaugh
5 questions for next week's Combine
Next Wednesday in Indianapolis marks the start of a seven-day blizzard of workouts and coverage that serves as the ultimate appetizer to April's NFL Draft.
Don't be fooled by the pessimists who tell you that a bunch of guys running sprints and lifting weights in shorts and t-shirts is meaningless. Those people are missing the point. The NFL Combine isn't just about the workouts.
It's about putting these finely tuned athletes in stressful, high-pressure situations and seeing how they respond. And by respond, I'm not only referring to running a fast 40-yard dash. The real test is how these guys measure up to the late-night meetings and interviews that take place with scouts and personnel executives from all 32 NFL teams.
So sit back and buckle up, because the 2011 NFL Draft is rapidly approaching.
1. Will someone emerge as the draft's top quarterback prospect?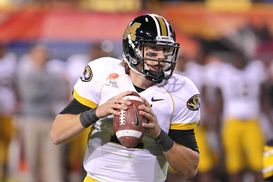 ICONIs Blaine Gabbert the guy?
This is a terrific year for the quarterback position due to a multitude of reasons. Unlike the last four years, there has yet to emerge a prospect that stands head and shoulders above the rest. Sam Bradford was that guy last year, Matthew Stafford topped the charts in 2009, Matt Ryan was pretty much everyone's favorite in 2008 and sadly, JaMarcus Russell's athletic talent took him to the head of the class in 2007.
But 2011 currently offers a deep and talented field at the quarterback position with many scouts, personnel directors, coaches and draft analysts disagreeing as to which player is the best at the position.
Auburn's Cam Newton has been catching a lot of steam as of late, but Missouri's Blaine Gabbert has headed many draft boards since the conclusion of the college football season. Will both players throw in Indianapolis? How will they perform when interviewing with NFL personnel after a long day workouts?
A lot of money is at stake.
2. Will the running back position stand up and make some noise?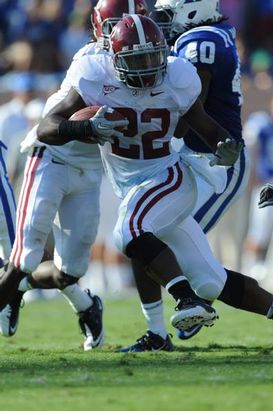 ICONOutside of Ingram, will any other running backs get drafted in the first round?
An average of 3.0 running backs have been selected in the first round of the draft over the last ten years, with a total of 11 going within the first 32 picks over the past three years. In addition, at least two running backs have been taken in the first round in each of the last ten drafts.
That could all change this spring, as former Heisman Trophy winner Mark Ingram heads an unheralded class of running backs that could end up lacking legitimate first round representation come late April.
But there's a beautiful thing about being a running back. Posting a blazing fast 40-yard dash time is enough to make people stand up and take notice.
Think about it: How many people were talking about Chris Johnson prior to his 4.24 in Indianapolis back in 2008?
And if you're going to tell me that 40-yard dash times are overrated, go back over the years and tell me how many RBs have been drafted in the first two rounds after running a 4.5 or higher.
It's rare.
3. Will Robert Quinn and Marvin Austin erase doubts after last year's suspensions?
The scandal that rocked the UNC football program last season resulted in numerous suspensions and decimated what could have been the country's top defense. Both Robert Quinn (DE) and Marvin Austin (DT)—two highly-touted prospects entering 2010—were lost for the year and now must work to show NFL teams that their past transgressions are exactly that—a thing of the past.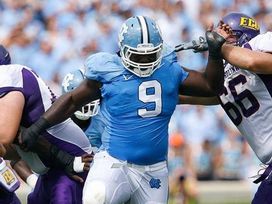 This will be a very big week for Marvin Austin.
Quinn's battle will be the easier of the two, as the freakishly talented defensive end is pretty much a lock for the first round. In the words of Vince Vaughn portraying Gary Grobowksi in the movie, "The Break-Up," fate has Quinn highly skilled and loaded with talent.
But pure talent alone doesn't erase the fact that Quinn hasn't put anything down on tape since 2009. He'll need to show up in top shape and say all the right things.
As for Austin, it's hard to erase the memory of seeing this guy show up at the Georgia Dome wearing sunglasses and jewelry for North Carolina's opener against LSU. That image didn't exactly improve his draft stock.
Austin had the opportunity to begin rehabilitating his image at this year's East-West Shrine Game and he'll have another chance to take a step in the right direction next week in Indianapolis.
The first thing on his docket should be to study what Alabama's Andre Smith did two years ago in Indy and then do the exact opposite.
4. Who will be this year's "workout warrior?"
This was a great question posed by one of our readers during Wes Bunting's live draft chat on Wednesday, with Wes' answer echoing the sentiments of many scouts and analysts from around the country.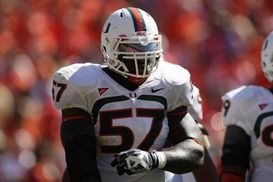 ICONBailey has the look, but does he have the talent?
As of the current moment, it looks like the consensus pick for this year's "workout warrior" goes to Miami defensive tackle Allen Bailey.
Standing next to Bailey in Alabama, I couldn't help but think that the famous statement, "all men are created equal," was a bit flawed. Measuring in at 6-4 and a chiseled 285 pounds, Bailey's right bicep muscle is bigger than my entire torso.
But while the mountainous defensive tackle certainly looks the part, Bailey has been known to disappear on tape for long stretches in key games. The senior defender racked up a combined zero sacks in crucial matchups against Ohio State, Florida State, Clemson, Virginia Tech and South Florida. Coincidentally, the Hurricanes went 1-4 in those contests (beat Clemson).
Don't be surprised if Bailey puts up some impressive numbers next week in Indianapolis, but remember, workouts and interviews only account for a fraction of the evaluation.
Tape never lies.
5. At the conclusion of the Combine, will we have a better idea of which player will be the first overall pick?
Bottom line: No. ESPN's Adam Schefter predicted Bradford to the Rams in the early stages of last year's draft process, but this year's top pick is shrouded in much more uncertainty.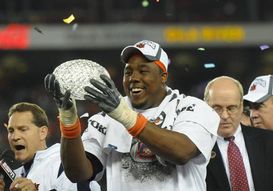 ICONIs Auburn's Nick Fairley the right pick f or the Panthers?
The Carolina Panthers currently own the first selection and new head coach Ron Rivera and general manager Marty Hurney will no doubt be hit with a slew of No. 1-related questions by the media in Indianapolis. But you have to keep in mind that the Panthers have several pressing issues—including the QB, DL and WR positions—that need to be addressed, with several top prospects fitting the bill.
Defensive tackle Nick Fairley (Auburn) could help bolster the interior d-line, while a defensive end like Da'Quan Bowers (Clemson) or Aldon Smith (Missouri) would provide much-needed help rushing the passer.
And what about the possibility of throwing in the towel on quarterback Jimmy Clausen and starting fresh with either Missouri's Blaine Gabbert or Auburn's Cam Newton? Taking a quarterback first overall is a very real possibility for the Panthers.
That is, unless they like the idea of bolstering their wide receiving unit by grabbing Georgia's A.J. Green or Alabama's Julio Jones.
The only certainty afforded after this year's Combine will be the safeguard that when filling out your mock drafts, you'll still be better served by using a pencil instead of a pen.
Hit me up on Twitter: @JoeFortenbaugh