July 19, 2010 -
Joe Fortenbaugh
5 rookies to watch in 2010
Year in and year out some of the best value a fantasy owner could ask for comes from the incoming crop of rookie talent. Rookies have a blank statistical history and no NFL game experience. These two factors tend to raise a few concerns among more conservative owners, which often leads to lower stock values and better prices.
But the experienced owner who is willing to take a risk knows that he/she could uncover a potential diamond in the rough among each year's rookie class. In 2008, Chicago's Matt Forte (Tulane) and Houston's Steve Slaton (West Virginia) both cracked the top-6 in scoring among fantasy running backs despite an ADP (average draft position) that landed each ball carrier in the middle to later rounds.
Last season, Minnesota's Percy Harvin (Florida) and New York Giants wideout Hakeem Nicks (North Carolina) both finished in the top-27, beating out veterans T.J. Houshmandzadeh and Santana Moss despite late-round draft grades.
It sounds like free money, but not every rookie is going to deliver a worthwhile return. That's why owners need to study up on which freshmen to target and when to do it.
Let's take a closer look at five rookies the NFP is excited about entering 2010…
But before we do, be sure to purchase the 2010 NFP Fantasy Draft Guide for a more comprehensive breakdown of the incoming rookies as well as our top-20 sleepers and busts, scouting reports, projections, rankings and more!
Jahvid Best Running Back Detroit Lions
NFP Running Back Rank: 22
When to pull the trigger: Anytime in Round 5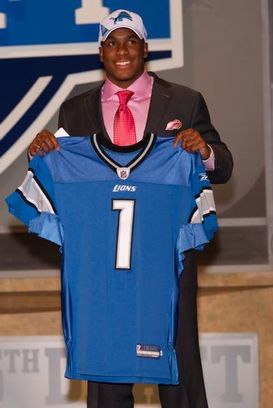 ICONFor a fifth-round draft pick, Best has the potential to produce a top-15 stat line.
The breakdown: A speedy, slash-and-dash style runner with great vision and open field speed, Best is a dual-threat running back with a lot of upside. The Lions liked this guy so much they traded back into the bottom of the first round this past April to acquire his services. The 21-year old landed on the radars of scouts and Heisman voters alike after a 2008 campaign at California that consisted of 1,826 total yards and 16 touchdowns with an impressive 8.1 yards per carry average.
Unfortunately, his 2009 season was cut short due to a couple of concussions, but that wasn't enough to stop the Lions from making him a first-round selection. Best will compete with veteran Kevin Smith for snaps, but look for the rookie to handle the bulk of the workload since Smith is coming back from a torn ACL. With wideouts Calvin Johnson and Nate Burleson stretching the field on the outside, Best should be free to eat up the open space underneath. The fifth-round draft value is what makes Best one of our favorite rookies heading into training camp.
Ryan Mathews Running Back San Diego Chargers
NFP Running Back Rank: 12
When to pull the trigger: End of Round 2, beginning of Round 3
The breakdown: A powerful runner with impressive speed for a guy his size (5-11, 220), Mathews is in the most favorable position of all the rookie running backs. The Chargers traded up in the first round from pick No. 28 to No. 12 to land Mathews, who head coach Norv Turner says should touch the ball around 290 times (250 carries, 40 receptions) in 2010.
While he may lose a few carries every so often to veteran Darren Sproles, no other rookie ball carrier is expected to handle a bigger workload this season. The 23-year old racked up an impressive 1,808 rushing yards and 19 touchdowns (6.6 YPC) last season at Fresno State and should develop into one of the premier playmakers on a San Diego offense that ranked fourth in the NFL in scoring last season (28.4 pts/gm). The main reason we don't have him listed ahead of Jahvid Best is due to the high price tag that comes with drafting Mathews. A second-round pick is a somewhat expensive price to pay for a guy that has a grand total of zero NFL snaps under his belt. However, all of the goal line carries he's sure to see will likely make it worth your while.
Ben Tate Running Back Houston Texans
NFP Running Back Rank: 23
When to pull the trigger: Round 6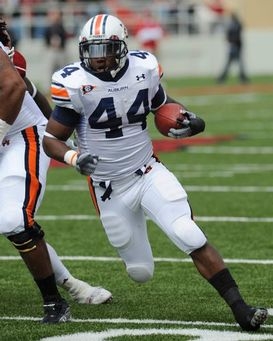 ICONTate will have to share the workload, but should clean up on the goal line.
The Breakdown: Despite taking the field with the NFL's top-ranked passing attack last season (290.9 yds/gm), the Houston ground game was atrocious. The Texans ranked 30th in rushing last year (92.2 yds/gm) with a pathetic 3.5 yards per carry average. To make matters worse, Houston's top four running backs (Steve Slaton, Ryan Moats, Chris Brown, Arian Foster) combined for just 13 touchdowns and an unacceptable 12 fumbles. Clearly, something needed to change.
Enter former Auburn standout Ben Tate, who the Texans selected in the second round this past April. Tate gives the Houston offense a legitimate goal line presence as well as a sure-handed ball carrier that didn't fumble one time in four years at Auburn (678 attempts). At 5-11, 218 pounds, Tate's a powerful runner who fits nicely in the Texans' zone-blocking, one-cut running scheme. He averaged 5.2 yards per carry last season in a conference known for quality defensive fronts (SEC), while rushing for 1,362 yards and ten scores. He's not known for catching a lot of passes (53 receptions in four years at Auburn) and will have to share some of the workload with Slaton and Foster, but Tate will make up the difference with a solid touchdown total.
Dez Bryant Wide Receiver Dallas Cowboys
NFP Wide Receiver Rank: 42
When to pull the trigger: Not before the start of Round 8
The breakdown: Despite a high-powered passing attack that ranked sixth in the NFL last season (267.9 yds/gm), the Cowboys went out and added yet another offensive weapon when they drafted Oklahoma State wideout Dez Bryant in the first round. With respectable size (6-2, 220) and the ability to stretch the field vertically on the outside, Bryant has a legitimate shot at knocking off perennial bust Roy Williams as the No. 2 target on the Dallas depth chart.
Bryant was one of college football's most feared wide receivers in 2008 when he hauled in 87 passes for 1,480 yards and 19 touchdowns. However, he got the boot from Okie State after just three games in 2009 (17-323-4) due to an NCAA rules infraction. The 21-year old will have a great opportunity this year playing opposite Pro Bowler Miles Austin on a team that ranked second in total offense in 2009 (399.4 yds/gm). Owners are advised to take some caution here as it generally takes some time for rookie wideouts to adjust to press coverage at the professional level. However, with Austin on one side and tight end Jason Witten eating up the middle, Bryant should find himself in very favorable 1 v. 1 matchups when he's on the field.
Demaryius Thomas Wide Receiver Denver Broncos
NFP Wide Receiver Rank: 54
When to pull the trigger: Anytime after the start of Round 12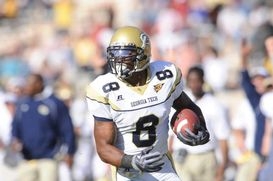 ICONWho else is going to catch the ball in Denver this season?
The breakdown: A big-time target with big-play potential written all over him, Thomas was the first receiver off the board in April's draft when the Broncos selected the former Georgia Tech Yellow Jacket with the 22nd pick in the first round. At 6-3, 224 pounds, Thomas has the size and balance to immediately step into the Denver offense and become quarterback Kyle Orton's go-to-guy in the red zone.
The upside here is simple to ascertain: Who else is going to catch the football for the Broncos this season? Pro Bowl wideout Brandon Marshall was traded to the Miami Dolphins this past offseason, leaving veterans Eddie Royal and Jabar Gaffney as the best options available for Orton. That isn't going to cut it. Thomas will have a legitimate shot to crack the starting lineup as soon as camp opens and don't be surprised if he starts the year as one of Orton's featured weapons. While the 22-year old caught just 46 passes in 2009 at Georgia Tech, he averaged an out-of-this-world 25.1 yards per reception with eight scores. For the mathematically challenged, that's one touchdown every 5.75 receptions. As we mentioned with Dez Bryant, it will take some time for Thomas to get acclimated to press coverage, but he's definitely worth a late-round draft pick due to the amount of targets he'll see in 2010.
Three IDP rookies to watch…
Rolando McClain, LB, Oakland Raiders: The 2009 Dick Butkus Award winner will have a chance to start from Day 1 in Oakland and should pick up—in terms of fantasy production—right where Kirk Morrison left off. McClain racked up 105 tackles, four sacks and two interceptions in 14 games at Alabama last year.
Eric Berry, S, Kansas City Chiefs: A hard-hitting ball hawk with a knack for being in the right place at the right time, Berry should record enough tackles and interceptions to become a legitimate IDP starter in 2010. The 2009 Jim Thorpe Award winner amassed 14 interceptions and three touchdowns in three years at Tennessee.
Derrick Morgan, DE, Tennessee Titans: Now that veteran Kyle Vanden Bosch left to sign with Detroit, somebody has to rush the passer in Tennessee. Why not first-round pick Derrick Morgan? The 21-year old racked up 103 tackles, 18 sacks and two forced fumbles during his last two years at Georgia Tech and is expected to start in Week 1 for the Titans.
If you want to check out more rookies the NFP is high on entering 2010, click HERE to purchase the 2010 NFP Fantasy Draft Guide!
Hit me up on Twitter: @JoeFortenbaugh