July 11, 2010 -
Joe Fortenbaugh
5 things to watch for in 2010
Part of assembling a promising fantasy roster requires an understanding of the changes and trends that are taking place around the NFL. Here are five things to keep in mind entering you fantasy drafts this summer.
1. The emergence of the second-year running backs
Chris Johnson, Ray Rice, Jonathan Stewart and Rashard Mendenhall all took a big step forward in their second NFL season. Each player picked up a bigger share of the workload and ended 2009 ranked in the top-13 in fantasy scoring among running backs.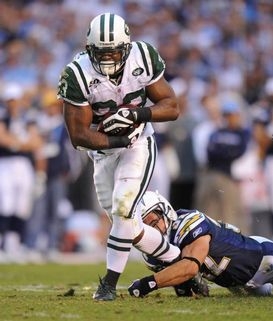 ICON1,200 yards and 12 touchdowns is very realistic for the former Iowa standout.
This season, owners are advised to keep a keen eye on second-year running backs Shonn Greene (Jets), Knowshon Moreno (Broncos), Beanie Wells (Cardinals), LeSean McCoy (Eagles) and Donald Brown (Colts).
With the exception of Brown, the other four aforementioned running backs have all been ranked in the top-20 by the National Football Post to start the season. Greene and McCoy will take over the starting role on their respective teams in 2010 while Moreno and Wells will be asked to handle a bigger portion of the workload. If Brown can stay healthy, expect him to see a solid share of touches in the Indianapolis backfield as well.
Second-year running backs have a lot of upside for a few reasons. For starters, they only have one season of wear and tear on their bodies, making it easier to bounce back from the week-to-week pounding NFL running backs are asked to endure. In addition, with a full year of game and playbook experience under their belts, second-year backs are more engrained in the offense than they were as rookies, which makes it easier for head coaches to keep them on the field.
Owners in keeper leagues should pay even more attention to the second-year backs in 2010. Their stock is rising.
2. Quarterbacks are going to fly off the board early this year
Every year there seems to be a new hot trend that fantasy experts and owners alike buy into. Last season it was drafting a wide receiver in the first round (for the most part, that was a bad move). This year, it appears that the top-tier quarterbacks are going to be in high demand.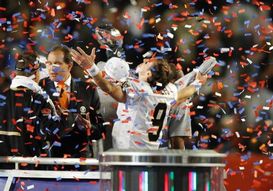 ICONAfter last year's Super Bowl run, expect Brees to be gone in a hurry on draft day.
Yes, Green Bay's Aaron Rodgers, New Orleans' Drew Brees and Indianapolis' Peyton Manning are all fantasy superstars. We aren't going to deny that. However, if there was ever a year to land a workhorse running back early, 2010 is the time to do it.
By our count, 22 NFL teams will enter 2010 with two ball carriers expected to handle a respectable portion of the workload, meaning if you target Aaron Rodgers with your first round pick, there is a good chance that your RB1 will be a guy who splits carries.
Did you know that of the ten running backs that ranked in the top-ten in rushing attempts last year, seven of those players also ranked in the top-ten in fantasy scoring? It isn't complex calculus. If you get touches, you're going to score points.
Remember, you can always land a quality quarterback such as Philip Rivers, Joe Flacco, Kevin Kolb or Eli Manning in the middle rounds. However, good luck trying to find a running back that carries the football 260+ times in round 6. Those guys come at a premium this season and should be targeted early.
For reference, here are the NFP's predictions for the running backs that will see the most carries in 2010:
1. Adrian Peterson, RB, Minnesota Vikings
2. Steven Jackson, RB, St. Louis Rams
3. Chris Johnson, RB, Tennessee Titans
4. Michael Turner, RB, Atlanta Falcons
5. Maurice Jones-Drew, RB, Jacksonville Jaguars
6. Cedric Benson, RB, Cincinnati Bengals
7. Ryan Grant, RB, Green Bay Packers
8. Rashard Mendenhall, RB, Pittsburgh Steelers
9. Ray Rice, RB, Baltimore Ravens
10. Knowshon Moreno, RB, Denver Broncos
3. The Washington Redskins and Pittsburgh Steelers
The Redskins and Steelers enter the 2010 season with several question marks surrounding their organizations due to the drastic changes that have occurred on both rosters.
In Pittsburgh, quarterback Ben Roethlisberger has been suspended for the first 4-6 games of the season due to a little incident in Georgia some of you may have read about. In addition, former Super Bowl MVP Santonio Holmes (WR) was traded to the New York Jets this past offseason.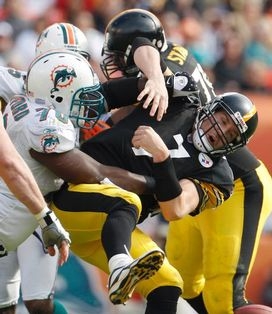 ICONTaking shots like this is the least of Big Ben's problems.
With Byron Leftwich running the show during Big Ben's absence, expect the Pittsburgh offense to take a step back. Leftwich is a capable NFL signal-caller, but he doesn't bring the pocket presence or mobility to the table that Roethlisberger possesses. This could prove to be a big problem in the early months as the Steelers offensive line took a big hit this summer when they lost starting right tackle Willie Colon to a ruptured Achilles tendon. Prior to Colon's injury, the Steelers offensive line was among the league leaders in sacks allowed.
The Pittsburgh defense will be up to their old tricks now that Pro Bowl safety Troy Polamalu is healthy and ready to go. In addition, tight end Heath Miller should see a ton of targets and second-year wideout Mike Wallace could be poised for a breakout year as the new No. 2 wideout. However, owners are advised to be very cautious and avoid overpaying for any Steelers with the exception of running back Rashard Mendenhall. This offense has a lot to overcome this season—especially in a division that is loaded with defensive talent in Baltimore and Cincinnati.
In Washington, Jim Zorn and Jason Campbell are out and Mike Shanahan and Donovan McNabb are in. The defense is switching from a 4-3 front to a 3-4, DT Albert Haynesworth is demanding a trade and there are enough aging running backs on the roster to fill a retirement home.
Let's start with the running back position, which is an area all fantasy owners are advised to avoid. Former Pro Bowler Clinton Portis is still the lead dog, but will be asked to share the workload in typical Mike Shanahan-style with a plethora of other ball carriers. Willie Parker and Larry Johnson will see their share of action, as could former Bronco Ryan Torain. All of these guys lack upside, youth and most importantly, an abundance of opportunities. Look elsewhere for running back depth.
Donny Mac leaves the pass-happy, high-octane Eagles offense to play behind a troublesome offensive line with a questionable group of receivers. The Redskins o-line will feature an average age of 28.8 by October, but the only reason that number isn't higher is because 21-year old rookie left tackle Trent Williams helps bring it back down to earth. McNabb has only completed one 16-game season in the last six years and expect that trend to continue as the former Pro Bowler finds himself running for his life against the defensive beasts from the NFC East.
Tight end Chris Cooley will see a ton of targets and is worthy of a selection and Santana Moss should have a respectable year, but don't get caught thinking this offense is going to explode because of McNabb and Shanahan. They have a lot of problem areas that need to be addressed.
Bottom line: Outside of a few key players, the Steelers and Redskins bring a lot of risk to the table for fantasy owners in 2010. We would rather you target players with more upside.
4. New faces, big-time results
Every winter the NFL free agency period gives every team an opportunity to upgrade their roster in the hopes of a potential playoff run. In addition, players are traded, cut, retire or outright lose their starting jobs.
We could talk about how veteran quarterback Jake Delhomme is taking over in Cleveland this season, but what would be the point of that? We're ranking him low and don't expect much. This section is about the new faces that are going to make a serious impact for their teams in 2010. Pay close attention.
Brandon Marshall heads to South Beach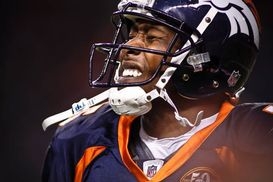 ICONMuch like LeBron James, Marshall is taking his talents to South Beach this summer.
Boom goes the dynamite. Marshall has hauled in 100+ receptions in each of the past three years and finally gives the Dolphins the No. 1 wideout they so desperately needed. Think about it: A Miami offense that can gash you with the Wildcat and burn your through the skies. That's just filthy.
Look for Marshall's presence to bring improved numbers to quarterback Chad Henne and No. 2 wideout Davone Bess. And don't be surprised if you see the Fish in the playoffs this season.
Kevin Kolb finally takes over in Philly
McNabb is out and three-year understudy Kevin Kolb is in. Expect to see the Eagles throw the football just as much this season as they have in the past, and don't be surprised if the offense looks more efficient with Kolb running the show. McNabb was never an ideal fit for Andy Reid's west coast system. Kolb is.
Unfortunately, Kolb's first season under center is going to feature its fair share of mistakes and interceptions, so be patient. However, look what three years sitting behind Brett Favre did for Aaron Rodgers. That's why Kolb is our favorite sleeper entering 2010.
Boldin escapes the desert
It's going to be weird when free agency opens up in 2011 and we aren't hearing Anquan Boldin's name being linked to every team in need of wide receiver help. It seems like Boldin has been looking to leave Arizona for the last decade.
This past winter, Baltimore pulled the trigger on a deal that could put their organization back in the Super Bowl come February. The addition of a Pro Bowl wideout in Boldin finally gives quarterback Joe Flacco a top-flight receiving unit to go along with his talent-rich backfield. Ray Lewis and the defense have been upgraded as well with rookies Terrence Cody (NT) and Sergio Kindle (OLB) stepping into the lineup. These upgrades are the reason many experts believe the Ravens will be playing for the Vince Lombardi Trophy in February.
They are also the reason Flacco could end the year as a top-8 fantasy quarterback. Don't be shy about getting this guy on your roster this summer.
Antonio Bryant's attitude gets partnered up with Chad Ochocinco's mouth
The Laveranues Coles experiment in Cincinnati failed miserably last season, but we have a feeling the Bryant experiment is going to pay dividends. Quarterback Carson Palmer finally has two legitimate deep threats at his disposal, not to mention a shiny new tight end in Oklahoma pass-catcher Jermaine Gresham.
Bryant will play second fiddle to Ocho, but these two are dangerous enough to force opposing defenses to abandon any hopes of playing double coverage. The addition of Bryant has us excited about the possibility of seeing vintage (2005-2007) Carson Palmer. You know, the guy that topped 3,800 passing yards and 26 touchdowns in three consecutive seasons?
The Bryant addition is the main reason Palmer joined the NFP sleeper list this season. It could also be the reason Cincinnati makes a deep run into the playoffs.
"Purple Drank" is no longer the officially beverage of the Oakland Raiders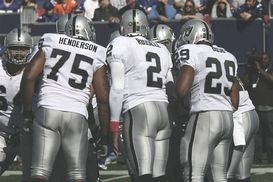 ICON"Where do you guys want to order lunch from?"
Optimism is defined as "a tendency to expect the best possible outcome or dwell on the most hopeful aspects of a situation."
In Oakland, optimism is defined as "no longer having JaMarcus Russell as your quarterback."
Most fans hope their team acquires the next Peyton Manning. Raiders fans just want a guy that knows how to complete a pass. With Jason Campbell now in the mix in the city by the bay, expect the Raider offense to take a step forward and score some points in 2010.
Tight end Zach Miller is poised for a big season, wideout Chaz Schilens has the potential to develop into a respectable No. 1 target and running backs Darren McFadden and Michael Bush may actually have an opportunity to score some touchdowns in 2010.
Yes, it's the beginning of a new age in Oakland.
5. The Detroit Lions are back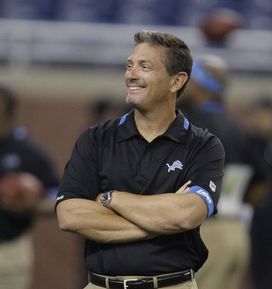 ICONJim Schwartz and the Lions are on their way back.
I'm going to be honest with you. This section has virtually nothing to do with fantasy football.
I was a big fan of the hiring of head coach Jim Schwartz two years ago and I love what the guy is doing in Motown. In less than two years time, Schwartz has completely overhauled the Detroit roster and given this team—and its fans—hope, something that hasn't been present in Detroit since the Barry Sanders era.
The Lions went from being the worst team in the history of the league to a two-win team that competed week in and week out in 2009. With the additions of Kyle Vanden Bosch, Nate Burleson, Tony Scheffler, Ndamukong Suh and Jahvid Best, there is no reason this squad can't win 6-8 games in 2010.
You heard it hear first. The Detroit Lions are one year away from making the playoffs.