January 30, 2012 -
Joe Fortenbaugh
A deeper look at the Gatorade Bath prop bet
Part of the fun of Super Bowl week involves perusing the hundreds—if not thousands—of proposition bets made available by both Las Vegas and offshore shops in an effort to find an edge that leads to one last end-of-the-season score.
Today we're taking a closer look at a prop offered by Bovada.LV (formerly Bodog.com) that our friends from BeyondTheBets.com have already dissected in an attempt to give themselves an advantage.
PROP: What color will the Gatorade (or liquid) be that is dumped on the head coach of the winning Super Bowl team?
Note: If nothing is dumped, wagers will be No Action.
CLEAR: 2/1
YELLOW: 2/1
ORANGE: 9/4
RED: 11/2
GREEN: 6/1
BLUE: 10/1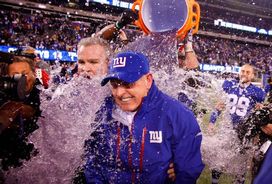 Giants head coach Tom Coughlin getting doused with the clear.
After some extensive research, BTB has determined that water (clear) had a four-year stretch of hits from 2005-2008. In addition, anyone who likes the Patriots to win the game should be backing "clear" as well, as BTB couldn't find any evidence of New England head coach Bill Belichick being dunked with anything but water during his illustrious coaching career.
You can check out the detailed analysis from BTB right here.
Oh yeah. And for those of you who were wondering what Giants head coach Tom Coughlin was dunked with when New York upset the Pats back in 2008, the answer is…gasp!...water.
Hit me up on Twitter: @JoeFortenbaugh