July 27, 2011 -
Barry Dorey
A first-round pick has reached an agreement
After a ten-win campaign that has led to a lot of buzz entering the 2011 season, the Tampa Bay Buccaneers are moving quickly in an effort to pick up where they left off.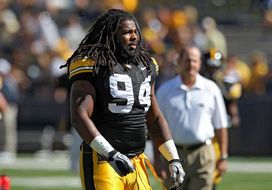 ICONThe Buccaneers made Clayborn the 20th overall selection in the 2010 draft.
Not only was the organization the first in the league to sign one of their draft picks, but now the Buccaneers have become the first franchise to reach an agreement with their first-round pick.
Per a tweet from Adam Schefter of ESPN, Tampa Bay has reached a deal with defensive end and former Iowa Hawkeye Adrian Clayborn.
The 6-4, 285-pounder recorded 15 sacks over his last 26 games at Iowa and was named first-team All-Big Ten for the second time in 2010. In Tampa, he'll join a very young defensive line that features tackles Gerald McCoy and Brian Price along with fellow rookie defensive end Da'Quan Bowers.
The lockout has certainly forced teams to adjust and adapt this summer, but credit the Buccaneers front office for moving quickly so they can get down to focusing on football.
Do the Buccaneers have the best defensive line in the league? Let us know in the NFP Forums!
Hit me up on Twitter: @JoeFortenbaugh