November 13, 2012 -
Joe Fortenbaugh
A simple stat to help explain Philadelphia's lost season
Bring up the Chernobyl-like disaster that is the Philadelphia Eagles' 2012 season and you're likely to hear a plenitude of reasons for why a supposedly talented football team is currently 3-6. The offensive line is banged up, the team is committing too many turnovers, the defense hasn't been the same since Jim Johnson passed away and on and on and on…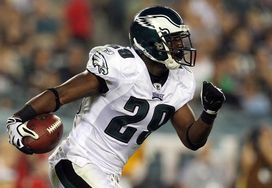 The numbers don't lie when it comes to running back LeSean McCoy.
Or, we can bypass all of those irrefutable arguments and look to the team's apparent unwillingness to give the football to their most explosive offensive weapon.
Since joining the Eagles in 2009, Philadelphia is 10-1 when running back LeSean McCoy amasses at least 20 rushing attempts in a game. Since 2011—when McCoy emerged as one of the NFL's most dynamic players—the Birds are just 3-13 when McCoy fails to hit that mark.
It becomes comical when you examine the 2012 season by itself. McCoy recorded 20 and 25 carries against Cleveland and Baltimore, respectively, to open the season, helping the Eagles get off to a 2-0 start. 13 carries in Week 3 at Arizona resulted in a loss, while 23 carries against the Giants in Week 4 brought another win.
Since then, McCoy has carried the rock 19 or fewer times in five straight games, all of which ended in Philadelphia losses.
I'm positive there's a perfectly good reason for why the Eagles have seemingly failed to recognize this trend. But with the way the team's 2012 campaign has gone, I'm not so sure anyone in Philadelphia is interested in hearing it.
Hit me up on Twitter: @JoeFortenbaugh