February 04, 2013 -
Joe Fortenbaugh
A wager for the ages
To roll the dice is to expose yourself to the world. A simple act on the surface, the proposition of rolling the bones opens up a window to the inner workings of one's personality. Some of us opt for the benefits that come with order, schedule and preparation. Those people don't like to leave anything to chance. Play it safe, play it smart, play it conservative. You can't lose what you don't bet.
There are others who walk among us resigned to the fact that the word "risk" carries with it a positive connotation. These are the people willing to lay it on the line because they know that deep down, their lot in life can be improved in a significant way with a favorable outcome. These people are well aware of the fact that they can die while climbing Mount Everest. They also know that a successful summit will elevate their game into a class occupied only by a chosen few.
Prior to January, Joe Flacco had us convinced that he was of the former persuasion. His career yards per attempt average—a statistical category that, if nothing else, defines a quarterback's willingness to take a risk by throwing the ball down the field—of 7.1 would have been good enough to rank exactly 16th among NFL quarterbacks during the 2012 regular season. His statements to the media rarely made headlines. His on-field demeanor was so devoid of flair that we barely knew he was playing the game.
Flacco's pre-January resume can be broken down into two components. The first is that he was the guy who transferred from Pittsburgh to Delaware because he couldn't beat out Tyler Palko for the starting gig in college. Yeah, you read that right. Tyler Palko. The guy who threw seven interceptions in eight games during his cup-of-coffee existence in the National Football League.
The second is that Flacco's five professional regular season campaigns produced results that can be defined by the word average. Take a look at the numbers before commencing your argument and you'll realize that the word "average" sums it up better than anything Merriam-Webster is currently offering.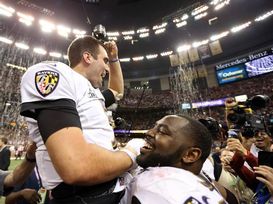 On Sunday, Joe Flacco won the biggest bet of his life.
And with all of that in mind, the Baltimore Ravens still offered Flacco a contract extension last summer. After all, you need a capable starting quarterback if you plan to win in this league and Flacco had proven to be that and nothing more. He was capable of playing quarterback.
It was at this precise moment that Joe Flacco unveiled himself to the world. Some will argue that Flacco's true coming-out party came over these last five weeks, but they are wrong. Flacco showed us his true colors when he declined the Ravens' offer last summer. Sorry, guys. I love Baltimore, but I'm worth more than you're currently willing to pay. I know it and that's all that matters.
So Joe Flacco rolled the dice. And that clever S.O.B. hit Yo 11 on his come-out roll.
There is no argument against the notion that Flacco's 2013 postseason run will go down as one of greatest we've ever witnessed. 11 touchdowns, zero interceptions and a quarterback rating of 117.2. Four wins, two of which came on the home turf of two of the best to ever play the game, and two against the NFL's "next era" of quarterback talent. Prior to January, Flacco fell into neither of those categories. He was a man in the middle, just as his statistics had been telling us all along.
Look at the numbers and you'll see that the same names dominate the top of the list: Manning, Brady, Brees, Rodgers. You always have to scroll down to find Joe Flacco.
But not anymore. Not after a flawless 4-0 postseason run for the ages. Not after thrashing the 4.5-point favorite San Francisco 49ers in front of the entire world. We don't have to scroll down to find Joe Flacco's name anymore. The most valuable player of Super Bowl XLVII just won the biggest bet of his life. Joe Flacco didn't wager on the cards and he didn't throw down on the dice. He bet on himself. And he's about to ride that ticket all the way to the bank.
Here is what we've learned about Joe Flacco over the last seven months: The man is a gambler. Not in the Las Vegas splitting eights sense of the word, but in the "I'm going to try and climb Everest" variety. With the world telling him no, Joe Flacco simply shrugged and said yes.
We doubted whether or not Flacco was capable of winning the Big One, but all along, the Delaware product knew who he was. He knew he was an elite quarterback capable of winning the Super Bowl and as a result, he backed that knowledge up with one of the greatest wagers we've ever witnessed.
And after the final pieces of confetti reached the turf in New Orleans on Sunday, all of us finally realized why.
Hit me up on Twitter: @JoeFortenbaugh