August 09, 2010 -
Joe Fortenbaugh
A week with Madden 2011
Tuesday morning marks the return of the best-selling sports video game in history as retailers around the country prepare for the onslaught of gamers seeking out the latest installment of the Madden NFL franchise.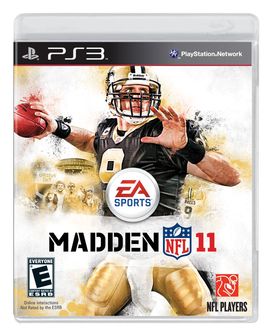 EA SportsMadden 2011 hits stores Tuesday with Super Bowl XLIV MVP Drew Brees on the cover.
Madden NFL 2011 is the 22nd edition of a video game franchise that has sold over 85 million units worldwide and brought in more than $3 billion in lifetime revenue. Over the last two decades, Madden NFL has become more than just a video game, it's become a part of our culture. Hell, the game itself is older than thousands of people who are playing it.
The good people at EA Sports were kind enough to send me an advanced copy of Madden 2011 for PlayStation 3 last week so that I could give it a thorough "testing" and report back to you with what I've discovered. Although my schedule over the past few years has prevented me from more extensive video game "analysis," rest assured that I've played enough Madden throughout my high school, college and law school years to know:
1. Which elements of the game have always been successful and which elements have not, AND
2. That I still suck no matter how much I play
Coming from a guy who grew up playing NBA Jam for Sega Genesis and the legendary Tecmo Bowl for Nintendo, I was truly blown away by what Madden has become in its fourth decade of existence.
It's mind-blowing.
For all the gamers out there who plan on diving into the world of Madden 2011 over the coming weeks, here's what to look for:
GameFlow
GameFlow is the brand-new playcalling system that EA Sports has installed in this year's edition of Madden. It allows gamers to avoid the playbook altogether by having the offensive and defensive coordinators automatically pick your plays based on situational game plans. For example, if it's second and ten in the fourth quarter of a game you're winning 28-7, the offensive coordinator will likely send you a conservative running play to keep the clock moving.
GameFlow is useful in a number of ways. For starters, if greatly speeds up the amount of time it takes to complete a game. I've never had an issue with how long it takes to play a game of Madden, but for those of you looking to complete the same amount of action in half the time, this is for you.
In addition, GameFlow is a big help for predictable players like myself who only run 6-8 key plays from the playbook. It will add more balance to your offense and will force your opponent to play on his toes if he wants to get a stop. It will also help those of you who don't understand defensive alignments and blitz packages to put yourself in a better position to make plays.
For those of you who fear change, don't worry. GameFlow is easy to turn off. For those of you who enjoy it, you also have the option of creating your own custom game plans.
You can finally run the football with success!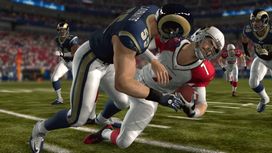 EA SportsWorried about Cardinals QB Matt Leinart getting lit up? No problem. It's easier to run the ball in Madden 2011.
As I mentioned earlier, my offensive game plan has been predictable as they come for two reasons. First, I never figured out how to run the football in Madden, so I abandoned that element of the game altogether. Second, I grew up rooting for Steve Spurrier and the Florida Gators, so naturally I wanted to spread the field five-wide from the shotgun on every single down, no matter what the situation.
However, in Madden 2011, the running game is easier to control than ever before. The speed burst button has been eliminated, which frees up a finger to use on other controls such as the stiff arm, juke move, high-step, spin move and more. In addition, the offensive line opens up bigger holes and even gets out to the second level to take on the linebackers, freeing up more room to pick up yards.
If you're like me and you've never had success running the football, play your first game of Madden 2011 with the Tennessee Titans and feed running back Chris Johnson (99 overall) the ball on sweeps to the outside. Once this guy gets out into open space, it's over.
However…
Playing good defense and getting stops is harder than ever
Having played the actual game of football for more than a decade, I have a respectable understanding of defensive schemes, coverages and blitz packages. Unfortunately, all of that means exactly squat in the world of Madden.
In 20+ games against my brother and random players online, I forced two interceptions, zero fumbles and less than a handful of punts. Total. Remember, I'm not a savvy Madden player and have been known to take some serious butt-kickings at the hands of more skilled gamers, but in previous versions the computer players would step up and generate more turnovers for my defense. That doesn't seem to be the case in this edition of Madden NFL.
I'm sure those of you who log some serious hours with this game will find more success, but a below-average player like myself has been involved in way too many 49-42 shootouts.
The stadiums, crowds, chants and soundtrack are sick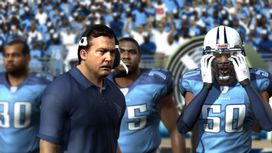 EA SportsVideo game Jeff Fisher looks a lot like the real thing.
Play a road game in Minnesota and turn up the volume. Travel to New Orleans for a primetime game and take a look at the people in the crowd and what they are wearing.
It's awesome.
The graphics in this edition of Madden are absolutely amazing. Not only that, but EA Sports incorporated each team's unique crowd chants into the game. Here are some examples:
Green Bay Packers: "Go Pack Go" after each first down.
New Orleans Saints: "Who Dat" after a big play.
Philadelphia Eagles: "Fly Eagles Fly" after a successful PAT.
Denver Broncos: "IN-COM-PLETE" after the defense forces an incomplete pass.
New York Jets: "J-E-T-S" after a successful PAT.
In addition, be sure to pay attention to the music that is played in the stadium during time outs, etc. The Madden 2011 soundtrack includes:
AC/DC: "Thunderstruck"
The Hives: "Tick Tick Boom"
Kiss: "Rock And Roll All Night"
Ying Yang Twins: "Halftime"
There's nothing like getting ready to run the two-minute drill on the road and hearing "Thunderstruck" being played over the PA system.
Playing online
I didn't get to log as many online games as I would have liked due mainly to the fact that the game hasn't been released to the public yet, meaning there isn't enough competition currently available.
EA SportsAndre Johnson (and other receivers) have the ability to drag their feet when close to the sidelines.
However, the games I did play online went as smoothly as possible (minus the fact that I lost every one of them). Setup and connectivity were never an issue and what's really cool is that EA Sports has introduced a new "Online Scouting" feature in which you can access crucial information about your online opponents such as run/pass ratio, top targets and field location scouting reports.
You can purchase "scouting report packs" by accessing the Madden Shop and trading in the "coins" you earn during online games. Once you access a scouting report during an online game, you'll be able to have a better understanding of what your opponent could be looking to do in specific situations.
EA Sports is also introducing "online team play," which puts the player in control of a single offensive unit and a single defensive unit. You can have up to three people controlling a different aspect of the offensive and defensive units for each game, meaning you and two of your frat brothers will likely be missing more classes than usual this fall.
Gus Johnson joins Cris Collinsworth in the broadcast booth
As he once again proved during March Madness this past winter, Gus Johnson is one of the best in the business at calling any sporting event. The veteran CBS play-by-play guy steps into the broadcast booth in Madden 2011 to join color commentator Cris Collinsworth. EA Sports told us that Johnson recorded over 10,000+ new lines of original dialogue for the game.
Unfamiliar with Johnson's work? Check out the video below. You'll have to sit through a short commercial, but trust us, it's worth it.
Can Madden 2011 predict this year's Super Bowl Winner?
I ran five, full-season simulations to see which teams Madden 2011 has making the playoffs and winning the Super Bowl this year.
Here are the results (Yes, I realize I have too much time on my hands):
Simulation 1: New Orleans 21, Pittsburgh 10
Simulation 2: Washington 27, Indianapolis 24
Simulation 3: New England 26, Dallas 10
Simulation 4: Minnesota 26, New England 10
Simulation 5: San Diego 23, Minnesota 20
Simulation Notes
1. New England, Indianapolis, San Diego and Minnesota won their respective divisions in all five simulations.
2. New England appeared in four of five conference championship games while Minnesota and Indianapolis each appeared in three of five conference championship games.
3. The New York Jets made the playoffs only twice in five simulations (both as wildcards).
4. Philadelphia, Green Bay, San Francisco, Chicago and Miami NEVER made the playoffs.
Final grade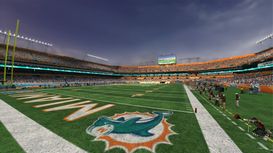 EA Sports
EA Sports' mantra for Madden 2011 is "Simpler, Quicker, Deeper," and they delivered in a big way. I've been hesitant of each new Madden installment ever since the franchise introduced the "QB Vision" feature back in 2006 and made passing the football more difficult than necessary.
However, EA Sports took a step back this year and made the game easier and more entertaining to play on many different levels. This doesn't mean every gamer is going to become a star, but it does mean you'll be able to pick up the controls and find success faster than usual.
Add in some very impressive visual effects and you've got yourself one hell of a video game.
Grade: 96 out of 100
Hit me up on Twitter: @JoeFortenbaugh
Click HERE to visit EA Sports and order Madden 2011.