August 26, 2011 -
Joe Fortenbaugh
A week with Madden NFL 12
The NFL lockout may have prevented HBO from wowing us with another installment of the hit series 24/7, but it didn't have the power to keep EA Sports from producing the 23rd installment of the Madden NFL video game franchise.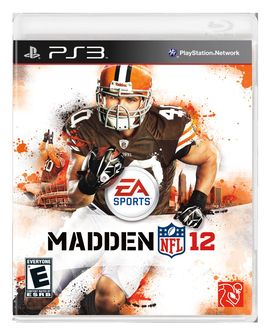 Cleveland running back Peyton Hillis graces the cover of the latest installment of Madden.
Gus Johnson and Cris Collinsworth are back to call the action in Madden NFL 12, which will hit stores on Tuesday, August 30.
Just like last year, the good people at EA Sports shipped me an advance copy to test drive so that I could report back to you with my findings. And just like last year, I drove my cholesterol to near-fatal levels while spending seven days locked away in a dark basement experimenting with EA Sports' latest creation.
Here's what I discovered…
After buying the game, you're first order of business is to…
Go online and download the latest roster updates. Due to the NFL lockout, EA Sports didn't have the time to include all of the post-free agency transactions in the right-out-of-the-box edition of the game. You need to make this a top priority, unless you're a Raiders fan and want to live in a world where Nnamdi Asomugha never left town.
*This is a painless process that only takes a couple of minutes.
What's Hot
The new free agent bidding feature: I've never been a huge fan of all the offseason elements included in Madden. Call me old fashioned, but I buy the game to play football, not to work a calculator and manage a salary cap.
All that changed with this year's edition, as franchise mode now offers owners a new way to acquire free agents. Per EA Sports, "You'll face off against the other 31 teams in an interactive bidding environment as you try to win the rights to sign the player to a contract of you're choosing."
This can be overwhelming at first, which means you need to be ultra prepared. Make sure you know what positions need to be addressed and that you target your team's biggest needs before anything else.
I recommend waiting until the last second before making your bid (which simply requires the pressing of one button). The clock will add six more seconds—allowing time for other teams to make an offer—but it helps in keeping the overall cost somewhat reasonable (in most cases). By bidding early, you're only driving up the price.
Custom Playbooks: According to EA Sports, this was the No. 1 requested feature by the fans. You now have the ability to create your own playbook by choosing from up to 400 offensive or defensive plays. I'm sure that the National Football Post's good friend @LeVarWoods will be happy to hear of this important development (Bring back Da Plays!).
Consistency/Confidence Trait: Every player starts out having a confidence level of 3 out of 5 stars. It's YOUR job to improve on that. Failure to do so (especially in franchise mode) will result in your players performing at a lower level.
I learned this the hard way. By not getting Vincent Jackson involved in my offense early in the season, it took me some time to get an acceptable level of production out of him. I actually moved V-Jax into the slot so he could get more targets. After two big games, No. 83 was good as new.
All-new collision system: Just like we discussed in our review of NCAA College Football 2012. You now have full control of a player up until the point of impact. This feature is very noticeable when blocking or tackling. If a smaller running back goes head-to-head with a massive linebacker, guess which way the running back is going to fall?
What's Not
The incorporation of the NFL's new kickoff rule: There are a lot of touchbacks. It sucks.
Punt return: Maybe it's just me, but I couldn't pay straight cash to return a punt more than six yards AT BEST. The consistently poor blocking led to my returners getting killed more often then they should have.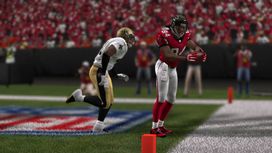 Roddy White making a sideline grab look easy. Maybe I should have played with the Falcons.
Sideline catches: I love taking a seven-step drop and throwing the deep out and deep comeback routes. Problem is, I'll time it out so the receiver has actually come to a stop, will throw a frozen rope and then for some reason, the receiver will take a step out of bounds on what should be a routine catch.
The better the receiver, the more likely he is to stay in bounds. But I had more trouble with Vincent Jackson than I should have.
*Bill Belichick looks NOTHING like Bill Belichick. However, Norv Turner looks exactly like Norv Turner.
Learn this skill immediately!
Pump Fake: (hold L-Trigger + the receiver icon) Go through your team's playbook, locate the double move routes (Hitch/Curl & Go, In/Out & Up, sluggo) and train yourself to pump fake on the receiver's first cut.
You can thank me later.
Note: Make sure you've got the right protection scheme called before trying this. These plays take some time to develop and you don't want to get your quarterback killed.
Beats
I noticed some complaining on twitter about the soundtrack to this year's version of Madden but quickly remembered that when it comes to music, beauty really is in the eye of the beholder.
Anytime you put Weezy, Snoop, Tribe and the Foo Fighters on the same playlist, you're aces in my book. Here's my top five tracks from this year's installment:
1. Ghetto Dreams: Common (feat. Nas)
2. 6 foot 7 foot: Lil Wayne (feat. Cory Gunz)
3. Burning Bridge: Foo Fighters
4. They Reminisce Over You: Pete Rock & C.L. Smooth
5. Make Some Noise: Beastie Boys
Lets try this again: Can Madden predict this year's Super Bowl winner?
In last year's review I ran five simulations to see if Madden had the chops to predict the winner of the 2011 Super Bowl. My hope was that if the game could get close—or hit it right on the money—that we might be able to take down Vegas with this season's predictions.
Unfortunately, none of the five sims had the Packers or Steelers in the Super Bowl.
Here's what this year's results look like:
SIMULATION 1: Pittsburgh 28, Philadelphia 15
SIMULATION 2: Washington 23, Pittsburgh 20
SIMULATION 3: New Orleans 27, Indianapolis 17
SIMULATION 4: Philadelphia 21, New England 9
SIMULATION 5: Philadelphia 22, Pittsburgh 21
Notes from this very important exercise…
According to our sims, Qwest Field won't be hosting a playoff game this season.
1. For the second straight year, Madden is feeding me crap about the Redskins winning the Super Bowl. If you're somehow down with that, I've got two words for ya: NO SHOT.
2. The Tampa Bay Buccaneers and Detroit Lions—two up-and-coming sleepers in the eyes of many—failed to make the playoffs in all five simulations.
3. On the other hand, the Houston Texans reached the playoffs four times, advancing as far as the AFC Championship game in Simulation #4.
4. The New England Patriots went 15-1 twice, but failed to win a Super Bowl.
5. Surprisingly, the Baltimore Ravens missed the playoffs in all five simulations.
Confirmed: I'm still mediocre and predictable
In order to give franchise mode a thorough test drive, I cut off all communication with the outside world for 48 hours and grinded through an entire year (preseason, season and offseason). My weapon of choice was the San Diego Chargers, on All Pro with GameFlow turned off.
Here's how it played out:
Week 1: WIN (1-0) 14-7 vs. Minnesota. Christian Ponder got the start and got pummeled (3 sacks, 2 interceptions).
Week 2: WIN (2-0) 15-14 at New England. Two-minute drill was unstoppable. Scored a touchdown in final minute of each half, went for two at end of game for win. Eat it, Belichick!
Week 3: WIN (3-0) 10-6 vs. Kansas City. Antonio Gates finds the end zone for the third straight game. Cassel LOVES targeting Dexter McCluster.
Week 4: WIN (4-0) 24-9 at Miami. The Gates' show continues (6-107-2), Henne stinks, but if he lobs it up for Marshall, be ready for a fight.
Week 5: WIN (5-0) 23-13 at Denver. Tebow gets the start and generates little offense, while Vincent Jackson moves into the slot and goes for 116 yards and a touchdown on six receptions.
Week 6: BYE (5-0). Trade! Defensive end Luis Castillo is shipped to Tampa Bay in exchange for running back LeGarrette Blount, who can provide more power to the San Diego rushing attack.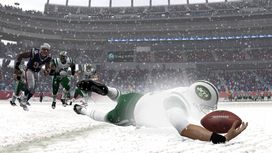 Sanchez, seen here making plays in the snow, also made plays in the rain against me in Week 7.
Week 7: LOSS (5-1) 16-0 at New York Jets. Pouring rain limits the Joe Fortenbaugh passing attack. Blount coughs up a costly fumble in his first game in powder blue.
Week 8: LOSS (5-2) 19-14 at Kansas City. Despite another impressive effort from linebacker Shaun Phillips (2 INTs, TD, 2 sacks), the offense commits five turnovers. Blunt fumbles again.
Week 9: LOSS (5-3) 19-7 vs. Green Bay. The wheels have officially come off the bus. Blount has now fumbled in three straight games and was sent to the showers in the third quarter of this Green Bay field goal fest.
Week 10: WIN (6-3) 17-10 vs. Oakland. Back to basics: PROTECT THE FOOTBALL! Nothing like a visit from the Silver & Black to turn things around.
Week 11: LOSS (6-4) 20-13 at Chicago. That winning streak of one didn't last very long. Bears pressure Rivers all day, forcing three turnovers. San Diego's lone touchdown comes on an Eric Weddle pick-six.
Week 12: LOSS (6-5) 10-7 vs. Denver. My three favorite plays for Antonio Gates are no longer effective. Defensive line isn't generating enough pressure, making me seriously regret the Castillo-for-Blount trade (who now has five fumbles in six games).
Week 13: WIN (7-5) 21-7 at Jacksonville. What did you expect? It's the Jaguars.
Week 14: WIN (8-5) 14-0 vs. Buffalo. Thank God for the guys who make the schedule for putting the Jaguars and Bills back-to-back during a crucial playoff run.
Week 15: LOSS (8-6) 13-3 vs. Baltimore. I'm going to go ahead and ruin the surprise: This is the beginning of a three-game losing streak that costs me the playoffs.
Week 16: LOSS (8-7) 20-17 at Detroit. Two Philip Rivers' interceptions set the Lions up with terrific field position. LeGarrette Blount is lost for the year with an Achilles injury. FML.
Week 17: LOSS (8-8) 14-10 at Oakland. The Raiders get their revenge. I die a little inside.
Note: The Green Bay Packers ended up defeating the Houston Texans in the Super Bowl 52-45. I had money on the under.
Report Card
Between new features like the free agent bidding system, collision system and custom playbooks, Madden NFL 12 once again brings an all-out assault on the senses. Amateur players like myself need to step up their games due to consistency/confidence trait, but all in all, the game delivers in the pocket. I think it's a small step back from Madden NFL 11, but still definitely worth owning.
Grade: 92/100
Hit me up on Twitter: @JoeFortenbaugh
To purchase a copy of Madden NFL 12 online, CLICK HERE.