June 29, 2012 -
Joe Fortenbaugh
A west coast surprise?
We spent the better part of Thursday morning taking a look at the recent adjustments that have been made in the Super Bowl futures market. We tried to find some value. We attempted to identify a few potential pitfalls. We made some stupid jokes. Nobody was injured in the process.
It was a good day.
But between the emails and twitter conversations that I had the pleasure of having with many of you, one team's rise up the board received a somewhat surprising amount of attention.
And that would be the boys in the Bay Area who call themselves the Raiders.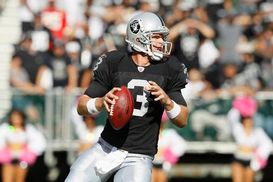 ICONBelieve it or not, there are people out there who see value in Carson Palmer and the Raiders this season.
With a season win total posted anywhere from 7 to 7.5 games coupled with the arrival of Peyton Manning to the AFC West, the Raiders haven't garnered a whole lot of hype in the months leading up to the season opener. In fact, offshore shops BetOnline.com (+600) and Sportsbook.ag (+650) have the Raiders listed with the longest odds to win the AFC West this season.
So if that's the case, why has Oakland gone from 40/1 to 24/1 to win the Super Bowl at Station Casinos in Las Vegas?
In an attempt to gain some insight on one of the bigger moves that's gone down in the last few months, I reached out to our friend Chuck Esposito Friday morning, who is the Director of Race & Sports at Sunset Station here in Vegas.
"At roughly 40/1 or higher industry-wide, there appeared to be tremendous value on a team that easily could have made the playoffs last year. Carson Palmer has a full offseason with the offense and has a talented young group of wide receivers at his disposal. And let's not forget about what a healthy Darren McFadden is capable of achieving.
"Outside of Peyton Manning, I find it interesting that the Broncos are 10/1 or lower industry-wide. They still have a number of holes to fill, a quarterback who hasn't played in over a year, questions at the running back position and very young wide receivers."
The Raiders haven't made the playoffs since 2002, which also happens to be the last year in which the organization posted a winning record. But that hasn't stopped a respectable amount of early money from coming in on first-year head coach Dennis Allen and the Silver & Black, despite the fact that Cantor Gaming opened the Raiders as an underdog for ten of their first 15 games.
Which clearly wasn't a deterrent to the individual (or individuals) who pounced on the Raiders at 40/1 under the assumption that the Bay Area could very well be sending both of its franchises to the postseason in 2012.
Hit me up on Twitter: @JoeFortenbaugh