June 26, 2013 -
Joe Fortenbaugh
Aaron Hernandez charged with first-degree murder
Former New England Patriots tight end Aaron Hernandez was charged with first-degree murder and multiple weapons counts Wednesday in connection with the death of 27-year-old semi-professional football player Odin Lloyd.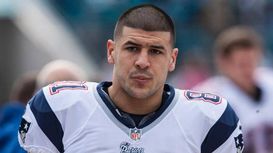 Hernandez faces six charges in connection with the death of Odin Lloyd.
Appearing in Attleboro District Court on Wednesday, just hours after being both arrested by Massachusetts State Police and released by the New England Patriots, the 23-year-old Hernandez pleaded not guilty to the six charges brought against him.
If convicted of first-degree murder in the death of Lloyd, Hernandez would face life in prison in the state of Massachusetts. A second-degree murder conviction carries a life sentence with the possibility of parole after serving 15 years.
The charges come just over a week after Lloyd's body was found in an industrial complex approximately one mile from Hernandez's North Attleboro home. Hernandez declined to speak on the matter until Wednesday, when he pleaded not guilty to the six charges he is facing in connection with Lloyd's death.
Less than two hours after Hernandez was arrested, the New England Patriots released the three-year veteran, just ten months after signing the tight end to a five-year contract extension worth $40 million.
Hernandez became a person of interest in Lloyd's death last week when he turned a smashed cell phone over to police and was discovered to have destroyed his home security system. According to Sports Illustrated's Pete Thamel, there were "six or eight hours of footage missing from Hernandez's home security video system."
The judge in Hernandez's arraignment has denied bail.
Hit me up on Twitter: @JoeFortenbaugh