February 05, 2012 -
Joe Fortenbaugh
Aaron Rodgers is your 2011 NFL MVP
INDIANAPOLIS—The thought process was that both Drew Brees and Tom Brady had legitimate arguments supporting their respective cases for the 2011 Associated Press Most Valuable Player Award.
The end result said otherwise.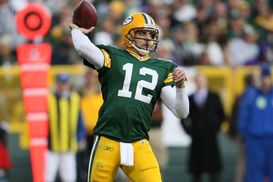 ICONRodgers threw 45 touchdown passes and just 6 interceptions in 15 games this season.
Green Bay Packers quarterback Aaron Rodgers was named the 2011 NFL MVP Saturday night in Indianapolis by claiming 48 of the 50 votes. The two voters who thought Rodgers' season wasn't MVP worthy opted to back Brees, who was named the 2011 NFL Offensive Player of the Year.
The 28-year-old signal-caller from California led the league in QB rating this season (122.5) en route to guiding the Packers to a 14-1 record as the team's starting quarterback. Rodgers was the runaway favorite to win the award before the Packers stumbled in a Week 15 loss at Kansas City, causing some to jump ship and back Brees.
Others even went so far as to make the claim that Rodgers didn't deserve the award after backup quarterback Matt Flynn set franchise records for passing yards (480) and passing touchdowns (6) in Green Bay's 45-41 shootout win over the Detroit Lions in Week 17.
You can debate those points all you want, but the bottom line is that Rodgers put together the most statistically impressive single season for a quarterback in NFL history. Throw in the fact that he won 14 games in 15 starts and you've got yourself the league's most valuable player.
Hit me up on Twitter: @JoeFortenbaugh</a>