January 29, 2014 -
Joe Fortenbaugh
Actions speak louder
Don't be fooled by the criticism that came out of New Jersey on Tuesday afternoon regarding Seattle Seahawks running back Marshawn Lynch's abrupt departure from Super Bowl Media Day. The reality is that Lynch said more than enough during his time on the podium.
Lynch—who was recently fined $50,000 by the league for his failure to speak with the media throughout the 2013 regular season—became public enemy No. 1 in the eyes of reporters Tuesday when he bailed on Media Day after dedicating just seven minutes of his time to answering questions. The running back's decision triggered a tidal wave of scorn that prompted the following press release from Pro Football Writers of America President D. Orlando Ledbetter:
"The Pro Football Writers of America, the official voice of pro football writers fighting and promoting for access to NFL personnel to best serve the public, is extremely disappointed in the lack of meaningful access to Seattle running back Marshawn Lynch at the Super Bowl XLVIII media day on Tuesday.
Several of our long-standing and high profile members were appalled by Mr. Lynch's conduct and refusal to answer any questions.
We find the statement that by the league that "Players are required to participate and he participated" to be an affront to our membership.
However, we are encouraged that the league will continue to closely monitor this situation."
Credit Ledbetter and the rest of the outstanding members of the PFWA for continuing to fight the good fight. One of the primary goals of the organization is to gain as much access to the world of professional football as possible in order to provide you, the reader and listener, with an overwhelming abundance of information regarding America's most popular sport. As one of the marquee players set to take the field for Super Bowl XLVIII on Sunday, Lynch's decision to offer an extremely limited window of access to reporters at Media Day stood in direct contrast of the PFWA's primary objective. Ledbetter had no choice but to issue a statement expressing the organization's disappointment.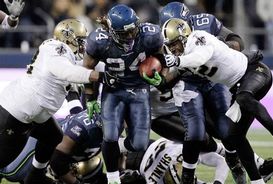 Lynch's play against the Saints during the Divisional Round (140 yards, 2 scores) spoke volumes.
However, what has been lost in translation is that, however brief, Lynch said everything you needed to know during his seven minutes on the stand.
"I'm just about action," Lynch told reporters at Media Day on Tuesday. "All the unnecessary talk, it don't do nothing for me."
That "action" no doubt includes the running back's 109-yard performance against the stalwart San Francisco defense in the NFC Championship game, which included a critical third-and-one conversion in the third quarter that went 40 yards for a touchdown, knotting the game at 10-10.
That "action" also includes the 2,847 rushing yards (third in NFL) and 23 rushing touchdowns (first in NFL) Lynch has amassed over his last 32 regular season starts. Through 18 games this season, Lynch's 1,825 total yards equate to 30.3 percent of Seattle's total offensive output. The 27-year-old started every possible game in 2013 and has found the end zone six times during Seattle's recent six-game offensive skid. When all else has failed on offense this season, like it did it Seattle's Week 2 home win over the 49ers in which Lynch racked up 135 total yards and three scores, the Pro Bowl running back has been the glue that kept this unit together.
A unit that, let's be sure to note, is playing for the Vince Lombardi Trophy in four days.
Let's also not forget that it was just ten days ago that teammate Richard Sherman chose to honestly express himself during an emotionally charged moment immediately following Seattle's NFC Championship game win. After making the biggest play of his career in the biggest game of his team's season, Sherman let loose for the cameras…and was instantly vilified.
Sherman's rant wasn't racist or homophobic and included exactly zero curse words. The star cornerback simply reaffirmed his earlier proclamation that he was the best in the business while talking a little trash on his biggest rivals.
We all know how that one turned out.
Sherman chose to speak and because his statement was for some insane reason deemed controversial, it gave the media and the fans a talking point to debate for more than a week. But more importantly, Sherman's words served to move the meter. Those words led to clicks and page views and eyeballs and ears. Stories on the subject saw gargantuan internet traffic results, which prompted more stories and more clicks.
You don't think Lynch took notice of what happened when his teammate chose to be honest?
Of course, there's another route a guy like Lynch could have taken at Media Day. Broncos quarterback Peyton Manning spoke forever, saying all the right things about all the right people. It was classy and professional and well received.
It was also boring, which is why few, if any, are dedicating their Wednesdays to Manning's remarks.
At Media Day, Lynch didn't follow Peyton Manning's blueprint and he sure as hell wasn't going to follow in Richard Sherman's footsteps. Instead, the running back took the approach that has worked so effectively during his seven-year career: He put his head down and plowed forward.
Seven minutes was all we really needed from Marshawn Lynch. The guy is about action, and more often than not, action speaks louder than words.
Hit me up on Twitter: @JoeFortenbaugh