July 30, 2011 -
Barry Dorey
After landing Asomugha, Eagles move to 9/1 to win Super Bowl
Friday afternoon's explosive signing is already creating a ripple effect around the country.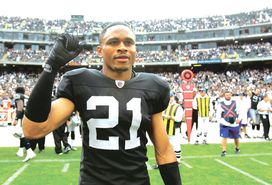 The arrival of Asomugha in Philly has been felt in Las Vegas.
The Philadelphia Eagles—who started the week at 12/1 to win the Super Bowl—are now listed at 9/1 over at Sportsbook.com after signing former Oakland cornerback Nnamdi Asomugha.
The defending champion Green Bay Packers (6/1) are still the favorite to win the NFC, while the New England Patriots (6/1) are the only team in the AFC listed above the Eagles.
After landing Asomugha, defensive end Jason Babin, cornerback Dominique Rodgers-Cromartie and backup quarterback Vince Young, should the Eagles be favored over the Packers to win the Super Bowl, or do you agree with where the odds currently sit?
Hit me up on Twitter: @JoeFortenbaugh