March 19, 2012 -
Joe Fortenbaugh
After locking up Flynn, Seahawks turn attention to Michael Bush
You would think that after filling in admirably for the injured Darren McFadden last season and scoring 15 touchdowns over the last two years, free agent running back Michael Bush would have done enough to warrant at least some interest on the open market.
You would be wrong. Well, sort of.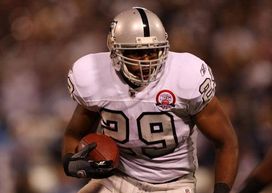 With Lynch and Bush in the same backfield, Seattle could become one of the NFC's best running teams.
As we enter Day 7 of the 2012 free agency period, the 27-year-old Bush has only visited the Arizona Cardinals since becoming free to sign with any team he likes. The sad reality is that NFL running backs have a short shelf life and teams are often willing to go with cheaper options rather than shelling out big-time bucks for free agents with tread on their tires.
But the good news for the former Oakland Raider is that on the heels of signing quarterback Matt Flynn, the Seattle Seahawks are interested in bringing in Bush for a visit, per Adam Schefter of ESPN.
Seattle just locked up veteran Marshawn Lynch to a four-year deal worth $31 million with $18 million guaranteed, so the team is likely interested in Bush as both an insurance policy as well as backfield depth that can aid in keeping Lynch's legs fresh for four quarters. Bush performed similar tasks in Oakland backing-up former first-round pick Darren McFadden, where he rolled up 2,642 yards, 21 touchdowns and 91 receptions in 61 appearances spread out over four years.
The best part of all for Seattle is that with the way the running back market has plummeted in recent years, the team may be able to get a great price on a productive running back who could contribute quite a bit to a team that ranked 28th in the NFL in total offense last season.
Hit me up on Twitter: @JoeFortenbaugh