May 21, 2013 -
Joe Fortenbaugh
Against the odds
It's interesting what one can accomplish on a stomach full of barbeque.
On Monday afternoon I made the short trek down to Rollin Smoke BBQ to meet Marco D'Angelo of Pregame.com and Marc Meltzer of Vegas Chatter.com for one of our semi-regular gorgings that operates under the guise of a midday lunch. These meetings have become something of a tradition as of late, with the three of us devoting a good 15 minutes to the never-ending argument over which local eatery offers the best burger in town.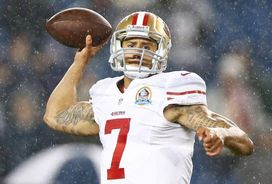 Colin Kaepernick and the 49ers are going to have a tougher time getting back to the Super Bowl than many think.
Gluttonous pontifications aside, Monday's conversation eventually turned to sports and the table's thoughts on the 2013 NFL season. After a couple minutes of kicking around some early predictions, Marco brought up the San Francisco 49ers, thus providing the catalyst for the following article.
For as terrific as the Niners have been in the two years since Jim Harbaugh assumed control of the team, we couldn't help but consider the idea that this team may not make as deep a run this season as many are currently predicting.
While no final decisions were made (except for the unanimous agreement that all three of us were headed home for a nap), I thought this topic required immediate attention. And after a night of research, I came up with three factors that are working against the 49ers entering the 2013 season.
FACTOR 1: THE CURSE OF THE SUPER BOWL LOSER
Nobody's asking you to believe in Bigfoot, the Loch Ness Monster or the Madden Cover Curse. Such notions border on the absurd. And while the word "curse" may be a tad foreboding, you simply cannot dispute the regression that occurs for teams in the season following a Super Bowl defeat.
The chart below compares three key statistics (record, point differential and turnover differential) for each of the past 15 Super Bowl losers in their seasons leading up to the big game with their seasons immediately following.
PT Diff: Point differential, TO Diff: Turnover differential
Note: The statistics highlighted in blue indicate an improvement in that specific category in the year following a Super Bowl loss.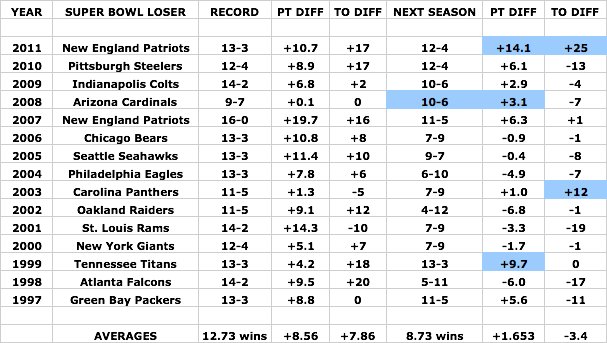 Well isn't that something? The past 15 Super Bowl losers combined to average 4.0 less wins per season in the year following their big defeat. Point differential drops an average of 6.907 points per team while turnover differential plummets an average of 11.26 turnovers per team.
In addition…
1. Zero of the 15 teams made it back to the Super Bowl the following season.
2. Only one team (New England, 2012) made it as far as the Conference Championship game the following season.
3. Only four of the 15 teams (26.6%) made it past the Wild Card Round the following season.
4. Eight of the 15 teams (53.3%) failed to qualify for the playoffs the following season.
5. Only one team (Arizona, 2009) recorded more wins in the year following their Super Bowl loss (2008).
The 49ers went 11-5-1 in 2012 with a point differential of +7.0 and a turnover differential of +9.
FACTOR 2: THE SCHEDULE
The 49ers won 11 games last season against opponents who combined to post a record of 125-131 (.488) in 2011. San Francisco traveled a total of approximately 27,336 round trip miles by air for their eight road games, two of which took place in the Eastern Time zone.
2013 offers a more daunting challenge. This season's schedule features 16 games against opponents who combined to post a record of 132-122-2 (.519) in 2012. The 49ers will travel approximately 28,324 round trip miles by air for their eight road contests, which includes three trips to the Eastern Time zone (Jacksonville, Washington, Tampa Bay).
Granted, the 988 additional air travel miles on the 2013 schedule shouldn't be considered too significant of an increase, but it's still worth noting that the additional mileage is close to the equivalent of a plane ride from San Francisco to Denver (947 miles).
In addition, for those of you who are still considering an over futures bet on the San Francisco win total (11.5), take a look at this hellish six-game stretch the Niners have to face beginning in Week 11 (November 17, two weeks after the team's bye week):
Week 11: at New Orleans Saints
Week 12: at Washington Redskins (Monday night)
Week 13: vs. St. Louis Rams
Week 14: vs. Seattle Seahawks
Week 15: at Tampa Bay Buccaneers
Week 16: vs. Atlanta Falcons (Monday night)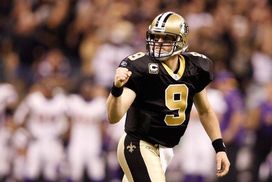 San Francisco begins a brutal six-week stretch with a trip to New Orleans to face Drew Brees and the Saints.
The challenge begins with a trip to the Voodoo Dome for a showdown with an improved Saints team that has gone 29-11 (.725) at home since 2008. From there, the 49ers head across the country for a Monday night matchup with 2012 postseason qualifier Washington before returning home to play division rival St. Louis, who went 1-0-1 against San Francisco last season. Super Bowl contender Seattle pays a visit the following week and then a cross-country road trip to Tampa precedes an NFC Championship game rematch with the Atlanta Falcons on Monday night.
Don't be surprised if you hear some rumblings about the sharps looking to bet on Tampa Bay in that Week 15 matchup. It's a tough travel distance that just so happens to be sandwiched in between two monster games for the Niners. Call it a "look ahead" or "letdown" situation.
FACTOR 3: THE QUARTERBACK SITUATION
The country applauded the 49ers when the organization came away with the 34th overall selection in the 2013 draft along with a conditional 2014 pick in the trade that sent quarterback Alex Smith to the Kansas City Chiefs. The Niners were unwilling to keep a backup signal-caller around at the cost of $8.5 million for one season, so the organization made hay while the sun shined and swung a deal to improve their draft haul.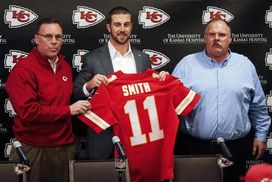 Alex Smith is no longer in San Francisco, where he served as a top notch insurance policy for Colin Kaepernick.
There's just one drawback: The departure of Smith means that San Francisco is no longer flush with depth at the quarterback position. Should something have happened to second-year phenom Colin Kaepernick on the 49ers' Super Bowl push last season, the team could have simply handed Smith—an experienced veteran who went 19-5-1 as a starter under head coach Jim Harbaugh—the keys t o the offense and kept humming along.
But Alex Smith now plays for the Kansas City Chiefs. And for his replacement, the 49ers turned to a Cleveland castoff named Colt McCoy who has won only six of the 21 games he has started since joining the league in 2010.
There's a chance that Colin Kaepernick completes the rigors of a 16-game regular season schedule without encountering so much as a mild case of Athlete's foot, but that's the best-case scenario. Kaepernick is a mobile quarterback who is just as dangerous with his feet as he is with his arm. He's going to take some shots in 2013 and no matter how often he slides to avoid contact, there's still a chance he could be lost due to injury. Just ask Robert Griffin III and Michael Vick.
Remember, injuries to marquee skill players function as kryptonite for season win total over bets. They cause nothing but chaos and panic when you're trying to post 12 wins and your starting quarterback has been lost with an injury.
With Alex Smith on the roster, an injury to Colin Kaepernick meant trading out one winning quarterback for another. With Colt McCoy, that same level of confidence and comfort is no longer present.
Hit me up on Twitter: @JoeFortenbaugh