July 28, 2011 -
Barry Dorey
A.J. Green and the Bengals strike a deal
Now that he's got a contract, A.J. Green needs a quarterback.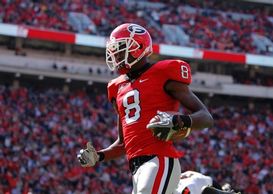 ICONThe Bengals hope Green will be the next big thing.
Adam Schefter of ESPN reports that the Cincinnati Bengals reached an agreement with first-round draft pick A.J. Green Thursday morning. Details of the deal weren't immediately made available.
A polished route-runner with excellent downfield balance, Green caught 166 passes for 2,619 yards and 23 touchdowns in 32 games at the University of Georgia. Drafted fourth overall by the Bengals, the 22-year-old is currently the highest draft pick under contract.
Next up for the Bengals: Reach an agreement with rookie quarterback Andy Dalton and get these two guys on a field together.
Will A.J. Green have a bigger rookie season than Julio Jones? Discuss it now in the NFP Forums!
Hit me up on Twitter: @JoeFortenbaugh