July 29, 2011 -
Barry Dorey
Al Harris agrees to terms with the Rams
While the current Philadelphia Eagles just got done putting the finishing touches on a free agent contract for a well-known cornerback, two former members of the franchise were coming to terms on a deal in St. Louis.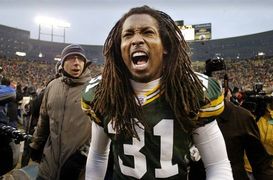 Former Green Bay Packers Al Harris is headed to St. Louis.
Per a source with knowledge of the situation, free agent cornerback Al Harris has agreed to a one-year deal with the St. Louis Rams where he will be reunited with head coach Steve Spagunolo.
Spags and Harris are quite familiar with one another, as the current Rams head coach was a defensive assistant in Philadelphia during four of Harris' five seasons with the franchise.
A 13-year veteran and two-time Pro Bowler, Harris spent seven years in Green Bay before injuring his knee during the 2009 season. He appeared in three games for the Miami Dolphins last year before becoming a free agent this offseason.
Hit me up on Twitter: @JoeFortenbaugh