September 02, 2011 -
Barry Dorey
Alex Smith gets the call in San Francisco
Sometimes the more things change, they more they stay the same.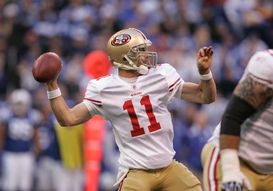 ICONAlex Smith has once again been named the starter of the San Francisco 49ers.
Despite a lifetime QB rating of 72.1 and more career interceptions (53) than touchdown passes (51), five-year veteran Alex Smith has been named the starting quarterback of the San Francisco 49ers, per ESPN.
Of course, it's not like head coach Jim Harbaugh had much to choose from. Rookie second-round pick Colin Kaepernick is going to take some time to develop and veteran journeyman Josh McCown has been in town for less than a month.
In three preseason games, the 27-year-old Smith has completed 18 of 29 passes for 188 yards with no touchdowns and two interceptions.
The 49ers host the Seattle Seahawks in Week 1.
Hit me up on Twitter: @JoeFortenbaugh