March 28, 2012 -
Joe Fortenbaugh
Alshon Jeffery's stock is back on the rise
Prior to February's Combine, reports surfaced that South Carolina wide receiver Alshon Jeffery had let his weight balloon above 240 pounds and was running his 40-yard dash in the 4.8-range. Naturally, Jeffery's draft stock took a hit as questions mounted in regards to his dedication and commitment.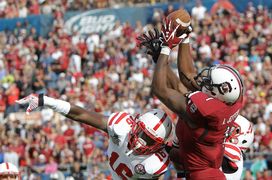 ICONAlshon Jeffery made himself some money on Wednesday.
Even though the aforementioned reports turned out to be completely false, Jeffery's image was nonetheless tarnished. But while Pro Day workouts may prove to be somewhat meaningless for guys like Andrew Luck and Robert Griffin III, they can make all the difference for a guy like Jeffery looking to repair an image that was wrongfully damaged.
And after Jeffery's performance at South Carolina's Pro Day on Wednesday, it looks like the wideout's stock is finally headed in the right direction.
According to a tweet from Gamecocks Online.com, Jeffery weighed in at a trim 213 pounds on Wednesday and turned in a vertical jump of 36.5 inches with a broad jump of 10 feet, two inches.
As for the ever-important 40-yard dash, Kevin Weidl of ESPN is on the scene and tweeted that scouts he talked to had Jeffery in the high 4.4 to low 4.5-range.
Shaky quarterback play kept the 6-4 wideout from rolling up Justin Blackmon-type statistics during his time at South Carolina, but Jeffery did record 88 receptions for 1,517 yards and nine touchdowns in 2010. Last season, the wide receiver caught just 49 passes for 762 yards, but found the end zone eight times.
Blackmon, Notre Dame's Michael Floyd and Baylor's Kendall Wright are considered to be the top three wideout prospects in this year's draft class, but Jeffery's weight and 40-yard dash time could go a long way toward putting him in the discussion as this season's third-best wide receiver prospect.
Hit me up on Twitter: @JoeFortenbaugh