April 16, 2013 -
Joe Fortenbaugh
An early look at NFL draft props
Next week marks the final time that we'll have the opportunity to cash a winning NFL ticket before preseason play commences in early August. And while the current offerings for 2013 draft props are extremely limited, rest assured that several sports books will roll out a gambler's buffet of options over the next eight days.
The following five draft props hit the board at the offshore shop Sportsbook.ag over the last week, so I figured we might as well begin our research here before releasing our annual guide to betting the draft next week.
See something you like? Feel free to share it in the comments section below.
O/U draft position for Geno Smith: OVER 6.5 (-130), UNDER 6.5 (even)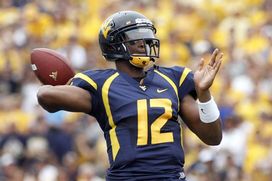 Will Geno Smith fall past the Browns at No. 6?
Analysis: Some view the West Virginia product as this year's top quarterback prospect while others claim that Smith isn't worthy of a top-ten selection. So this is a relatively unstable situation, to say the least. I'm ruling out Kansas Cityjust traded for Matt Flynn. That leaves Jacksonville (No. 2) and Cleveland (No. 6), as well as any possible trade-ups for a successful under bet. The Browns are absolutely in the market for a signal-caller, but do they make the move at No. 6?
Early lean: OVER 6.5 (-130)
O/U draft position for Matt Barkley: OVER 32.5 (-130), UNDER 32.5 (even)
Analysis: Barkley's pro day performance did little to improve his stock in the eyes of personnel men around the NFL, but this is still a quarterback-driven league where the demand far exceeds the supply. With the line set at 32.5, another way to phrase this prop would be to ask, "Will Matt Barkley be drafted during the first round?" I'm not sure that he will be, but I'm more interested in betting a prop that offers an over/under on how many quarterbacks will be selected during the first round.
Early lean: OVER 32.5 (-130)
O/U draft position for Manti Te'o: OVER 26.5 (-140), UNDER 26.5 (+110)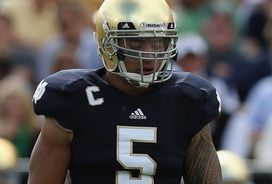 Is Manti Te'o worthy of a first-round selection?
Analysis: No list of prop offerings would be complete without at least one option dedicated to the Notre Dame linebacker. Potential under destinations include the New York Giants (No. 19), Chicago Bears (No. 20) and Minnesota Vikings (Nos. 23 and 25), but many mock drafters believe that Te'o slips to the Baltimore Ravens at No. 32. Minnesota has a glaring need at the linebacker position, owns two picks within the top 25 selections and seems to have a taste for Fighting Irish talent (TE Kyle Rudolph in 2011, S Harrison Smith in 2012).
Early lean: UNDER 26.5 (+110)
O/U draft position for Tavon Austin: OVER 13.5 (-105), UNDER 13.5 (-125)
Analysis: Austin's stock has been on the rise in recent weeks, but I feel that no bet should be made on the Mountaineer wide receiver until approximately 48 hours before the start of the first round. More information (some true, some false) is going to leak over the next eight days and I think we'll have a better understanding of where Austin goes the closer we get to draft day. At the moment, the New York Jets (No. 9), Miami Dolphins (No. 12) and Tampa Bay Buccaneers (No. 13) could all be in play for the under, while the St. Louis Rams (No. 16) make sense for the over.
Early lean: UNDER (-125)
O/U draft position for Marcus Lattimore: OVER 84.5 (-115), UNDER 84.5 (-115)
Analysis: Lattimore was on his way to a first round selection before suffering a gruesome injury that saw the South Carolina running back dislocate his right knee while sustaining tears to his ACL, LCL and PCL. But all that still wasn't enough to prevent the 21-year-old from working out for every NFL team less than six months after undergoing surgery. Lattimore claims that he'll be ready to play during the first half of the 2013 NFL campaign and after watching the quick recovery made by Adrian Peterson, not to mention the fact that Buffalo selected Willis McGahee No. 23 overall during the 2003 draft after the Miami running back suffered a similar injury, we're prepared to side with the under in this spot.
Early lean: UNDER 84.5 (-115)
Hit me up on Twitter: @JoeFortenbaugh