January 02, 2012 -
Joe Fortenbaugh
An early look at the opening lines for the wildcard round
A new year brings with it a new challenge. 17 weeks of jockeying for position are behind us as the NFL postseason gets underway this Saturday in Houston.
Four games, four point spreads, four totals.
Let's take an early look at what Las Vegas thinks of our first four NFL playoff matchups.
CLICK HERE for all of the wildcard lines.
CINCINNATI BENGALS (9-7, 5-3 road) at HOUSTON TEXANS (10-6, 5-3 home)
Time: 4:30pm ET, Saturday
Opening line: Houston -3/38.5
Current line: Houston -3/38
Cincinnati Bengals: 8-6-2 against the spread, OVER is 11-5
Houston Texans: 9-5-2 against the spread, UNDER is 10-6
Analysis: Good luck trying to get a read on this one. With a shot at securing an opening-round bye for their first postseason appearance in franchise history, the Texans lost their final three games of the season to teams with a combined record of 17-31. Not good. To make matters a bit more interesting, rookie quarterback T.J. Yates suffered a shoulder injury in Sunday's loss to the Tennessee Titans and could be on the sidelines watching Jake Delhomme run the Houston offense next Saturday.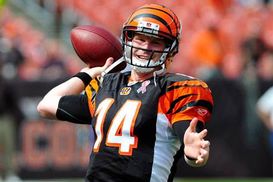 Despite a Week 17 loss to the Ravens, Andy Dalton and the Cincinnati Bengals are in the postseason.
Yep, that's the same Jake Delhomme who committed six turnovers in a 33-13 loss to the Arizona Cardinals in his last postseason appearance.
Meanwhile, the Bengals took the back door into the playoffs on the strength of 24-16 loss to the Baltimore Ravens in Week 17. While Cincinnati's season can most certainly be considered a success, the Bengals went 1-5-2 against the spread over their final eight games, which includes a 20-19 loss to the Texans in Week 14.
If you remember correctly, Cincinnati led that game 16-3 in the second quarter and 19-13 with just over five minutes remaining.
With two of the NFL's top-7 defenses set to square off in this one, oddsmakers sent this total out at 38.5, so clearly they aren't expecting a shootout to unfold at Reliant Stadium on Saturday. The Bengals stayed UNDER the total in three of their final five games, while the Texans went UNDER in four of their last six outings.
DETROIT LIONS (10-6, 5-3 road) at NEW ORLEANS SAINTS (13-3, 8-0 home)
Time: 8:00pm ET, Saturday
Opening line: New Orleans -9.5/58
Current line: New Orleans -10.5/59
Detroit Lions: 7-7-2 against the spread, OVER is 10-6
New Orleans Saints: 12-4 against the spread, OVER is 9-7
Analysis: Sean Payton's New Orleans Saints enter the postseason as the hottest team in the league. The WhoDats have won eight straight games since falling 31-21 at St. Louis back on October 30 and have perhaps the biggest home-field advantage in the NFL. The Saints went 8-0 straight up and against the spread at the Voodoo Dome in 2011, winning by an astounding average of 23.3 points per game.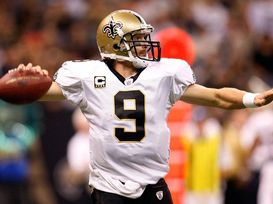 Drew Brees and the Saints are heavy favorites for their first-round matchup with the Lions.
While the Detroit Lions exceeded the expectations of many by winning ten games this season, they enter their first postseason showdown since January 8, 2000, coming off an embarrassing 45-41 road loss to the Green Bay Packers and backup quarterback Matt Flynn, who threw for a team-record 480 yards and six touchdowns against this shoddy secondary.
These two teams met in the Big Easy back on December 4, with the Saints waxing the Lions 31-17 in a game that featured a Detroit team who committed 11 penalties for 107 yards.
In a matchup that features two of the NFL's top-four scoring offenses, it's no surprise to see that this showdown opened with a higher total (58) than any other game in postseason history.
We know the Saints will score their share of points, but the question is whether or not the Lions can keep pace.
ATLANTA FALCONS (10-6, 4-4 road) at NEW YORK GIANTS (9-7, 4-4 home)
Time: 1:00pm ET, Sunday
Opening line: New York -3/49
Current line: New York -3/49
Atlanta Falcons: 7-8-1 against the spread, UNDER is 9-7
New York Giants: 8-7-1 against the spread, OVER is 8-7-1
Analysis: Forget about that six-week stretch that saw the New York Giants drop five of six games. Big Blue enters the postseason on the heels of two very impressive must-win victories over the New York Jets and Dallas Cowboys, respectively. The Giants have momentum, confidence and a defense that finally decided to wake up on their side as they prepare to make another run at the Vince Lombardi Trophy.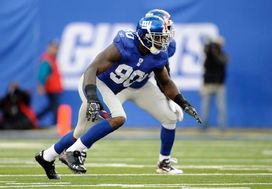 ICONDefensive end Jason Pierre-Paul and the New York defensive line will be coming after Matt Ryan on Sunday.
The same thing can almost be said about the Atlanta Falcons, who after getting pasted 45-16 at New Orleans in Week 16 bounced back with a 45-24 ass-kicking of the Tampa Bay Buccaneers this past Sunday. The Falcons have covered the number in three of their last four games, but are just 3-5 ATS on the road this season and 1-3 ATS on the road in games played outdoors.
The key to this matchup will be Atlanta's ability to keep quarterback Matt Ryan upright against the onslaught of speed and pressure generated from one of the nastiest defensive lines in football. Big Blue finished the regular season ranked third in the NFL in sacks (48).
A total of 49 makes a lot of sense when you take into account the fact that both the Falcons (20th, 236.6 yds/gm) and Giants (29th, 255.1 yds/gm) struggled mightily this season to limit their opponent's passing attacks.
PITTSBURGH STEELERS (12-4, 5-3 road) at DENVER BRONCOS (8-8, 3-5 home)
Time: 4:30pm ET, Sunday
Opening line: Pittsburgh -8/35.5
Current line: Pittsburgh -8/35
Pittsburgh Steelers: 7-9 against the spread, UNDER is 10-6
Denver Broncos: 7-9 against the spread, OVER is 9-7
Analysis: Facing a win-and-in scenario in which all the Broncos needed to do was come out on top in a home game against the struggling Kansas City Chiefs, Denver went out and scored just three points and lost 7-3. You can bet general manager John Elway and head coach John Fox will be sending a late Christmas card to Norv Turner and the San Diego Chargers, who beat the Oakland Raiders 38-26 on Sunday and allowed the Broncos to slip through the back door into the postseason.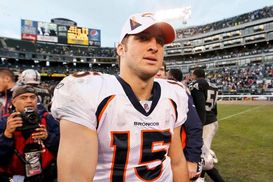 Tim Tebow has put together a nice season, but he's going to struggle against one of the league's top defenses.
We all remember the impressive six-game winning streak that quarterback Tim Tebow and the Broncos put together en route to a playoff berth, but Denver has dropped three straight game s and failed to cover the number in each of their last four contests. That doesn't bode well for a date with a Pittsburgh Steelers team that has made it a habit of winning Super Bowls from the Nos. 5 and 6 seed.
The Steelers have won six of their last seven games and are 5-3 ATS on the road this season. An 8-point spread may not be all that tough to cover when you take a defense that is surrendering only 14.2 points per game (1st in NFL) and put them up against an offense that is posting only 19.3 points per outing (25th in NFL).
With an opening total of 35.5 that has already been bet down to 35, oddsmakers and early bettors clearly aren't expecting these two teams to light up the scoreboard on Sunday.
Hit me up on Twitter: @JoeFortenbaugh