May 01, 2012 -
Joe Fortenbaugh
An early look at the Week 1 lines
Yes, I'm well aware of the fact that the first meaningful NFL game won't be played for four months. But that hasn't stopped the Las Vegas and offshore sportsbooks from posting lines for all 16 of the Week 1 matchups.
With free agency and the draft in the can, let's take a look at the current lines for Week 1 and see if we can find some early value.
All lines used in this article all courtesy of the LVH SuperBook in Las Vegas.
THURSDAY NIGHT, SEPTEMBER 5
Dallas Cowboys at New York Giants
Time: 8:30pm ET
Open: NYG -3
Current: NYG -3
Analysis: The Giants have come away victorious in six of the last eight meetings between these two teams (including a 3-1 mark at home). But New York was just 3-4-1 against the spread at home last season and faces a revamped Dallas defense in the opener that will be looking to produce big results on the field in 2012. Barring any major injuries, this line may hold tight right up until kickoff.
SUNDAY, SEPTEMBER 9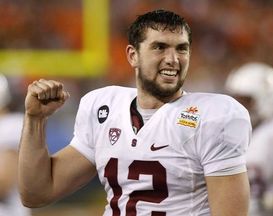 ICONAndrew Luck may not be smiling after a Week 1 trip to Soldier Field.
Indianapolis Colts at Chicago Bears
Time: 1:00pm ET
Open: CHI -9.5
Current: CHI -9.5
Analysis: Rookie quarterback Andrew Luck gets a very stiff test in his NFL debut as the Colts head to Chicago to face a Bears team that is coming off an impressive offseason. Indy is in rebuilding mode and as of the moment, doesn't possess the necessary personnel for new head coach Chuck Pagano's 3-4 defense. This could get ugly in a hurry.
Philadelphia Eagles at Cleveland Browns
Time: 1:00pm ET
Open: PHI -6.5
Current: PHI -7
Analysis: Eagles head coach Andy Reid is 3-1 with a 27-point average margin of victory over his last four season-openers. The key to this game will be the Philadelphia defense, which put together four strong performances to close out the 2011 campaign and added linebacker DeMeco Ryans via free agency and defensive tackle Fletcher Cox and linebacker Mychal Kendricks through the draft. This game actually opened at Philadelphia -5 over at Lucky's. I think the Eagles roll here.
Buffalo Bills at New York Jets
Time: 1:00pm ET
Open: NYJ -6
Current: NYJ -6
Analysis: The Jets are 7-1 straight-up over their last eight games against the Bills, but this Buffalo defense got a whole lot nastier over the offseason with the signing of defensive end Mario Williams and the first round selection of cornerback Stephon Gilmore. It should be interesting to see how this line moves come the beginning of September, but I think Buffalo is a live dog in this matchup.
Washington Redskins at New Orleans Saints
Time: 1:00pm ET
Open: NO -11
Current: NO -10
Analysis: Including the postseason, the Saints went 9-0 against the spread at home last year and are an impressive 19-5 at the Voodoo Dome since 2008. RG3 faces a daunting challenge in his first professional start, but you have to keep in mind that the player suspensions for the New Orleans bounty scandal could have several defensive starters on the sidelines for this one. We'll take a pass at the moment.
New England Patriots at Tennessee Titans
Time: 1:00pm ET
Open: NEP -6.5
Current: NEP -6.5
Analysis: Will it be Hasselbeck or Locker under center for the Titans come Week 1? In any event, I think I'll probably pull the trigger on the Patriots at less than a touchdown after watching the organization upgrade the defense on draft day. And don't forget about the acquisition of wide receiver Brandon Lloyd, who could make this passing attack nearly impossible to slow down. That doesn't bode well for a Titans team that lost cornerback Cortland Finnegan this offseason.
Jacksonville Jaguars at Minnesota Vikings
Time: 1:00pm ET
Open: MIN -3.5
Current: MIN -3.5
Analysis: Despite the fact that nobody will be watching, reports out of the league office indicate that the NFL still plans to hold this game. It's a good thing the Vikings drafted offensive tackle Matt Kalil, because he'll be tested (ha!) in his first professional start against a Jaguars defense that ranked 25th in sacks last season (31). There's a very good chance I don't watch a single down of this game. But, there's also the chance I find some value in the line at the last minute and end up glued to the television to watch Christian Ponder vs. Blaine Gabbert.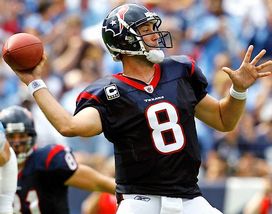 A healthy Schaub could mean big things for the Texans in 2012.
Miami Dolphins at Houston Texans
Time: 1:00pm ET
Open: HOU -6
Current: HOU -6
Analysis: Matt Schaub and Andre Johnson should be healthy for a Houston home opener that will be dripping with expectations for the 2012 campaign. Joe Philbin will be making his debut as Miami's new head coach while Ryan Tannehill will likely be under center to make his first professional start. With Brandon Marshall no longer on the Dolphins roster, look for that loaded Texans defense to have no problems locking down Miami's offense. Houston at less than a touchdown could be my biggest Week 1 play.
St. Louis Rams at Detroit Lions
Time: 1:00pm ET
Open: DET -9.5
Current: DET -9.5
Analysis: The Lions will likely be a trendy Super Bowl amongst the media entering 2012, but I have my doubts about betting against Jeff Fisher in Week 1. The Rams are outmatched in terms of talent, but that's a big line.
Atlanta Falcons at Kansas City Chiefs
Time: 1:00pm ET
Open: Pick
Current: Pick
Analysis: I'll bet that the public backs the Falcons in this one, as Kansas City's 7-9 record from a year ago won't exactly inspire the masses. But running back Jamaal Charles should be back in the lineup and Arrowhead is a very difficult road trip for any NFL team. Remember, the Falcons got smacked 30-12 in their season opener at Chicago last season.
San Francisco 49ers at Green Bay Packers
Time: 4:15pm ET
Open: GB -6.5
Current: GB -6.5
Analysis: It's unlikely that anyone views San Francisco's 13-3 record from 2011 as a fluke, but Jim Harbaugh and the Niners will be put to the test with an early road trip to Green Bay. The Packers went 7-1 against the spread at home last season while the 49ers went 5-3 ATS on the road. This should be a good one.
Carolina Panthers at Tampa Bay Buccaneers
Time: 4:15pm ET
Open: CAR -2.5
Current: CAR -3
Analysis: I may be in the minority on this one, but I've already got the itch to get down on the Buccaneers for the season-opener. A divisional rivalry where the home team is getting three points? I love what Cam Newton did last season and think he'll take another step forward in 2012, but the Buccaneers had a fantastic offseason and have a very good chance to win this game outright.
Seattle Seahawks at Arizona Cardinals
Time: 4:15pm ET
Open: AZ -2.5
Current: AZ -2.5
Analysis: The Seahawks are just 5-11 on the road under head coach Pete Carroll and that includes a 23-20 loss at Arizona late last season. But at this point in the year, there is just too much uncertainty at the quarterback position in both cities. We'll take a pass for now.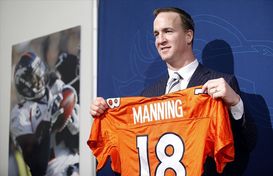 Peyton Manning's first game in Denver will come against the Pittsburgh Steelers.
Pittsburgh Steelers at Denver Broncos
Time: 8:25pm ET
Open: DEN -2
Current: DEN -2
Analysis: All due respect to Green Bay and San Francisco, but this is the main event on the Week 1 card. Peyton Manning returns to action after nearly two years to what will be an insane atmosphere in Denver for a heavyweight fight against the Pittsburgh Steelers. Expect Manning to bring his A game, but the key matchup to watch will be Denver's defense against Big Ben and the Steelers offense. Early lean to Denver due to home field advantage, but I could very well change my mind come September.
MONDAY NIGHT, SEPTEMBER 10
Cincinnati Bengals at Baltimore Ravens
Time: 7:00pm ET
Open: BAL -7
Current: BAL -7
Analysis: The Bengals had a solid draft and should be ready to take another step in the right direction this season, but Cincinnati went 0-2 against the Ravens last year and lost both games by seven or more points. LVH set a beautiful line for this matchup, so we'll wait to see if any early action gives us an indicator of what side the sharps will be playing for the first Monday night game of the year.
San Diego Chargers at Oakland Raiders
Time: 10:15pm ET
Open: Pick
Current: Pick
Analysis: My, how the mighty have fallen. It was just three years ago that the Chargers went to Oakland for a Week 1 Monday night showdown against the Raiders as a ten-point favorite. San Diego failed to cover, but gutted-out a 24-20 win to open the year at 1-0. But over the last two seasons, the Bolts are just 1-4 straight-up against the Raiders. Oakland's a tricky team to handicap and we also have to wonder about which Philip Rivers will show up for San Diego this season. This could be a pass.
Hit me up on Twitter: @JoeFortenbaugh