April 20, 2012 -
Joe Fortenbaugh
Anatomy of a draft day trade
For every blockbuster draft day trade like the 2011 deal between the Falcons and Browns that resulted in Atlanta's acquisition of wide receiver Julio Jones in exchange for five draft picks, there are countless other transactions that fly below the radar.
Take for example the 2010 trade in which the Patriots sent the 44th and 190th selections to the Raiders for Oakland's pick at No. 42. This move drew very little interest because at its core, it really only involved a sixth-round pick in exchange for the right to move up two spots. Small potatoes, right?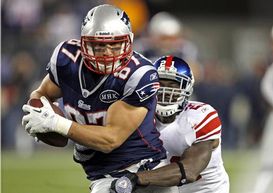 If not for some quick thinking on the part of New England, Gronkowski could be a member of the Ravens right now.
Wrong.
That trade allowed the Patriots to leapfrog the Baltimore Ravens—who were sitting at No. 43 and in the market for a tight end—and draft a guy from the University of Arizona named Rob Gronkowski.
With an allotment of only ten minutes to make their selections during the first round, seven minutes for the second round and five minutes for rounds three through seven, NFL front offices need to be overly prepared and ready to act fast. That's because those with the ability to operate well under pressure can end up turning a relatively insignificant transaction into an investment that pays off big dividends.
To gain a better understanding of the draft day trade process, I spoke with NFL front office veteran Tim Ruskell—who has been involved in 25 NFL drafts—on Tuesday for a crash course in the art of the draft day trade. Ruskell spent five years as the general manager of the Seattle Seahawks (2005-2009) before serving as the director of player personnel for the Chicago Bears from 2010-2012.
THE DRAFT ROOM
Each team has its own specific game plan for how to approach the three-day draft, but for the most part, the key players seated at the head table who are involved in the decision making process remain the same.
"In most instances it's your general manager, head coach, salary cap guy and whoever is running your personnel department," said Ruskell. "But it's different on every team. Sometimes the owner is in the room if he's the one driving the train. But there's one decision maker on every team who is in charge of running the draft and making the final decision. That guy is going to have the final say. But he may want to hear what the others think and typically, he would."
THE PREPARATION
Ten minutes may seem like a while for a guy like Joey Chestnut—who is capable of firing down 59 hot dogs in that time span—but for NFL teams looking to swing a deal during the first round of the draft, 600 seconds doesn't leave a whole lot of room to operate. That's why general managers interested in making a move on draft day will look for suitable partners prior to the ten-minute countdown.
"A lot of those trades that you hear about, especially the ones that take place in the higher rounds, there's probably been some discussion prior to the draft," said Ruskell. "And in the case of the Atlanta-Cleveland trade last year, I have no doubt that's what happened. There may have been two or three teams involved in those discussions, but as the draft approached, the teams in the mix were probably narrowed down until it was determined who could make a worthwhile deal. And then at some point the decision was made to make the deal on the clock."
So how many people are involved in the actual negotiations?
"Unless they're on speakerphone, there's one guy on the call and he's relaying information to the rest of the people in the room. If he's looking for a consensus or to put a trade to a vote, the other guys are sitting right there and will weigh in.
"Once the two teams come to an agreement, you've got to call the league in order to get the deal verified. And if it's the first round, the man to talk to is [NFL Vice President of Player Personnel/Football Operations] Joel Bussert. If everything looks good to Joel, he'll quickly push it through. Typically in each draft room, you have somebody whose only job is to call the league to get approval for the trade."
THE UNEXPECTED
Front office personnel can run as many draft simulations as they like in preparation for the big day, but the bottom line is that you can never be 100% prepared for what's going to transpire once the first team goes on the clock.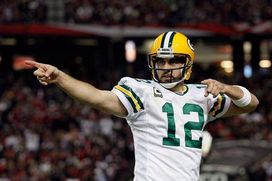 It's safe to say that Packers fans are happy about Rodgers' freefall in 2005.
2005 serves as a perfect example. Utah quarterback Alex Smith and California quarterback Aaron Rodgers were considered by many to be sure-fire top-ten selections. But after Smith went first overall to the San Francisco 49ers, the quarterback market suddenly dried up and Rodgers began freefalling.
"This is a classic example where everybody anticipated Aaron being gone in the first ten picks," said Ruskell. "It was a foregone conclusion. So those teams sitting at 11-23 weren't even thinking about Aaron Rodgers. They didn't do all the stuff necessary to prepare themselves to get Aaron Rodgers. And you have to do more with a quarterback than any other position. You want to bring him in, you want to have your personal workout, you want to put him on a chalkboard, because that's the face of your franchise.
"So a lot of teams, probably under the anticipation of Rodgers going in the top ten picks, didn't do that. And when he was there at spots like 15, 18 and 21, for example, they might have said, "Hey, you know what, we've got a great grade on Rodgers, we like him. But we didn't do everything on this guy. We better go with what we know." And that just fed the drop for Aaron because he was highly touted in that draft."
The lack of preparation cost several teams the opportunity to land a quarterback who, after seven seasons, has already won both a Super Bowl and MVP award.
WHEN A TRADE GOES BAD
It's easy now to praise the Packers for pulling the trigger on Rodgers back in 2005 while condemning the organizations who passed. But front offices often fall victim on draft day to tight time constraints and preconceived notions of players who may temporarily blind them from adjusting on the fly.
While working in Chicago last year, Ruskell was part of a botched first-round trade with the Ravens in which the clock expired before the deal could be completed. Chicago was looking to trade up from No. 29 to Baltimore's spot at No. 26. Since the transaction was not communicated to the league office in time, the Ravens' pick was skipped, which allowed Kansas City to move up and take Pittsburgh wide receiver Jonathan Baldwin at No. 26. The Ravens then selected Colorado cornerback Jimmy Smith at No. 27.
"This was a situation where we saw that a guy we liked was dropping and nobody had anticipated that happening," said Ruskell. "Trade situations like this one can be more stressful because everything has to be done on the spot, under the clock.
"That was like nothing I had ever seen before. It just came out of the blue and it was like lightning struck. It was so late in the process and we had a miscommunication within our office—within our draft room—that ran the clock out. The deal fell apart and Baltimore lost their position because o f it.
"This was an example of a trade that wasn't really advanced in terms of where we were in the discussions. It got going too late and we ran out of time, mostly due to a miscommunication in our building. It had nothing to do with Baltimore.
"But you talk about high levels of stress and anxiety. That was the ultimate right there."
THE PERFECT EXECUTION
Aaron Rodgers' 2005 freefall to the Packers at No. 24 is the perfect example of what can happen when opportunity, preparation (or lack thereof in the case of the teams drafting before Green Bay) and a little bit of luck come together for a team on draft day. The failed trade between Baltimore and Chicago in 2011 highlights the pitfalls that can occur when a lack of anticipation meets tight time constraints.
But what happens when it all comes together? What happens when preparation, anticipation and a little bit of luck merge to form a perfect hurricane of opportunity that can alter the face of a franchise forever?
"I was with Tampa in 1995 when Warren Sapp came out," said Ruskell. "There had been some rumors out there that he had tested positive for marijuana and we were sitting on the seventh pick. As that information came out and we were doing our due diligence, we made the decision that Sapp was probably going to drop. So we decided to trade down from No. 7 to No. 12 and pick up another second round pick, not knowing if Sapp would still be in the picture or not.
"It was hectic, but we pulled the deal off. Sapp ended up falling and we got him with the 12th pick."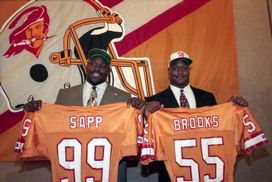 The Buccaneers hit it big in 1995 by acquiring both Warren Sapp and Derrick Brooks in the first round.
But the wheeling and dealing didn't stop there. Ruskell and the Buccaneers noticed that something intriguing was taking place in the first round. Armed with the additional second round pick that had been acquired in the move to draft Sapp, the Buccaneers picked up the phone and got back to work.
"In addition to Sapp, the other guy that we really coveted that year was Derrick Brooks. But we didn't feel like we could get him with either of our second-round picks. However, as the first round played out and Brooks wasn't taken immediately, we picked up the phone and found a seller in the Dallas Cowboys at No. 28. Because we had made the deal to move down and take Sapp, we now had two second-round picks and that was going to give us the ability to trade back into the first round.
"So we started talking with Dallas. The guy that they wanted, they didn't feel they needed to take him at the bottom of the first round. This was a perfect example of two teams talking that felt they would both be satisfying their own needs by getting a deal done. Dallas wanted to move back, we wanted to move up. So we ended up getting Warren Sapp and Derrick Brooks with our first two picks."
Two trades, two future Hall of Famers. Draft day wheeling and dealing at its finest.
Editor's note: The trade for Derrick Brooks was made with the Dallas Cowboys, not Atlanta Falcons, as previously written.
Hit me up on Twitter: @JoeFortenbaugh