August 04, 2011 -
Barry Dorey
Annual Favre rumblings surface in Florida
Since Dolphins head coach Tony Sparano didn't deny it, we all get to speculate on it.
As is tradition this time of summer, quarterback Brett Favre's name has made its way into the news. After being asked about the possibility of looking into acquiring Favre's services, Omar Kelly of the South Florida Sun-Sentinel tweets that Sparano—given every chance to say "no"—didn't deny the possibility that the aging quarterback could land in Miami.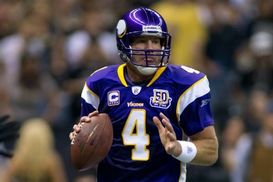 ICONIt wouldn't be summer if we weren't talking about Brett Favre.
"I can't rule anything out...I'm giving you the only answer I can give you."
Considered by many to be on the hot seat this season, Sparano has a growing problem at the quarterback position on his hands. A trade to land Broncos quarterback Kyle Orton never panned out and the natives are growing tired of three-year veteran Chad Henne.
The way we see it, if Sparano and the Dolphins had no interest whatsoever in Favre, they would publicly squash the idea of it right now. There's nothing to gain when your current starting quarterback has to live in fear that he'll lose his job to a 41-year-old with a penchant for late-summer theatrics.
And if history has taught us anything, it's not like Favre is going to come out and let the public know what his intentions are. Where's the fun in that?
This way, no matter what the situation, Favre still gets to watch all of us talk about him.
Hit me up on Twitter: @JoeFortenbaugh