July 30, 2011 -
Barry Dorey
Another cornerback is off the market
What, is Richard Marshall the one guy the Panthers didn't want to throw at least $30 million at?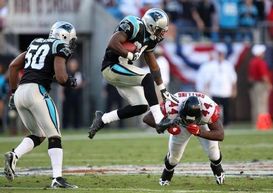 Now that Marshall has been taken, the CB market is starting to dry up.
In need of another starting cornerback now that Pro Bowler Dominique Rodgers-Cromartie has been traded to Philadelphia, the Arizona Cardinals have reached an agreement with free agent cornerback and former Carolina Panther Richard Marshall, per Kent Somers of the Arizona Republic.
The terms of the deal weren't immediately made available.
In Carolina, Marshall formed a pretty solid 1-2 punch with fellow cornerback Chris Gamble. During his five seasons with the team, the 26-year-old from Fresno State recorded 14 interceptions and 363 tackles while making 45 starts.
The cornerback market is drying up in a hurry. Lets see how the New York Jets respond.
UPDATE: Somers says it's a one-year deal.
Hit me up on Twitter: @JoeFortenbaugh