May 22, 2012 -
Joe Fortenbaugh
Are the Bills legitimate playoff contenders?
It's been 16 years since the Buffalo Bills last emerged victorious in a playoff game, 12 years since the team qualified for the postseason and eight years since the organization's last winning record. It goes without saying that this fan base is due for a winner.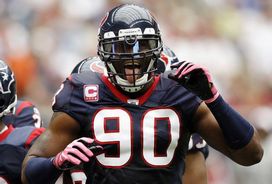 Will the addition of Mario Williams get the Bills back to the playoffs for the first time since 1999?
But hunger alone won't be enough to carry the Bills to their first postseason appearance since the legendary "Music City Miracle" game of 1999. The Buffalo front office knows this and that's one of the reasons why the organization broke the bank this offseason in an effort to upgrade the talent level on its roster. The additions of defensive ends Mario Williams and Mark Anderson to a front four that already includes Marcell Dareus and Kyle Williams should give the Bills some much-needed pressure and stability upfront, while the selection of cornerback Stephon Gilmore provides youth and athleticism for the team's secondary.
But will those additions be enough for a team that went 6-10 last season to become a legitimate contender for the 2013 playoffs?
Let's take a look:
1. The schedule: By my estimation, the Bills will need to emerge from their Week 6 meeting at Arizona with a 3-3 record at worst. Buffalo hits the road four times over the first six weeks of the season, which includes a rare west coast back-to-back against the 49ers (Week 5) and Cardinals (Week 6). The other four teams the Bills will play during that opening sequence include the Jets (road), Chiefs (home), Browns (road) and Patriots (home).
Sweet spot: In the Bills can hang tight until Week 11, the schedule affords an opportunity for what could wind up being a much-needed winning streak:
Week 11: vs. Miami
Week 12: at Indianapolis
Week 13: vs. Jacksonville
Week 14: vs. St. Louis
Week 15: vs. Seattle (Toronto)
A Week 16 victory at Miami could set the Bills up for a win-and-in wildcard scenario for their Week 17 home date against the New York Jets.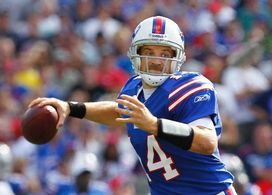 If the Bills want a shot at winning ten or more games, Fitzpatrick will have to avoid another late season collapse.
2. Ryan Fitzpatrick: The Bills have some talented players on the roster, but not enough to overcome poor play from the quarterback position. Seven-year veteran Ryan Fitzpatrick got off to a hot start that included 12 touchdown passes and only six sacks allowed while guiding the Bills to a 4-2 record over the first six weeks of the 2012 season. That was enough for the Buffalo front office to sign their quarterback to a six-year contract extension worth $59 million, which prompted a downward slide from Fitzpatrick that included 17 interceptions and eight losses over the team's final ten games.
For the Bills to have a shot at making the postseason, Fitzpatrick will need to play smart, consistent football for the duration of the 2012 campaign. A second meltdown will likely trigger another unwanted losing streak.
3. What does Vegas think? The Bills opened at 50/1 to win the Super Bowl at LVH here in Las Vegas back in January and are currently 50/1 at offshore shop Bovada.LV and 40/1 at Sportsbook.ag. But we're not necessarily concerned with whether or not Buffalo can go the distance. We want to know if this team is capable of making it to the postseason.
Cantor Gaming released point spreads two weeks ago for every NFL game played from Week 1 through Week 16. Here's how the Bills stack up:
Week 1: +5.5 at New York Jets
Week 2: -2.5 vs. Kansas City
Week 3: -1 at Cleveland
Week 4: +5.5 vs. New England
Week 5: +7.5 at San Francisco
Week 6: +2.5 at Arizona
Week 7: -3.5 vs. Tennessee
Week 8: BYE
Week 9: +7 at Houston
Week 10: +11.5 at New England
Week 11: -2.5 vs. Miami
Week 12: -1 at Indianapolis
Week 13: -5.5 vs. Jacksonville
Week 14: -6 vs. St. Louis
Week 15: -3.5 vs. Seattle (Toronto)
Week 16: +3 at Miami
Week 17: vs. New York Jets (no spread available)
Cantor opened the Bills as a favorite for eight games and as a dog for seven. That's a fair assessment, but for this team to even think about extending their season into the middle of January, Buffalo will have to put at least ten wins on the board.
A loaded New England offense means the Bills will be fighting with the Jets, two of three teams from the AFC North (Steelers, Ravens, Bengals) and either the Chargers or Broncos at a minimum for one of the AFC's two wildcard spots. That will be no easy feat to accomplish, but it's certainly within the realm of possibility.
Gun to my head, I've got the Bills as an underdog to qualify for the postseason. But I do believe that when examining the team's schedule, a 10-6 campaign is attainable.
Hit me up on Twitter: @JoeFortenbaugh