March 06, 2012 -
Joe Fortenbaugh
Are the Cardinals really the favorite to land Peyton Manning?
We all saw it coming, but the Peyton Manning era in Indianapolis is now officially scheduled to come to an end on Wednesday, according to a report from Chris Mortensen of ESPN.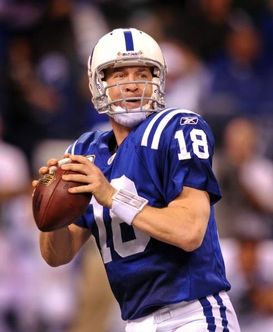 ICONFree agency comes early this year as Manning is scheduled to hit the market on Wednesday.
The beautiful thing about this situation is that the instant the Colts release the four-time NFL MVP, Manning is free to sign wherever he wants. That's right, the hottest name to hit the open market since Reggie White signed with the Green Bay Packers in 1993 doesn't have to wait until the start of free agency on March 13.
With that in mind, let's start the speculation and turn our attention to the odds on where Manning will play football next season (that is, if he's capable of playing football next season), according to Cal-Neva and courtesy of our friend R.J. Bell at Pregame.com.
I still feel the New York Jets are the team that should make the biggest push, but if I'm laying down some coin, give me the Miami Dolphins.
Here's the rundown:
Arizona Cardinals: 17% (a $100 bet wins $250)
Miami Dolphins: 14.5% (a $100 bet wins $300)
Washington Redskins: 11.5% (a $100 bet wins $400)
Retire: 10% (a $100 bet wins $500)
New York Jets: 8.5% (a $100 bet wins $600)
Kansas City Chiefs: 6.5% (a $100 bet wins $800)
Seattle Seahawks: 5% (a $100 bet wins $1,000)
Houston Texans: 3.5% (a $100 bet wins $1,500)
San Francisco 49ers: 3% (a $100 bet wins $2,000)
Denver Broncos: 2% (a $100 bet wins $3,000)
Tennessee Titans: 1.5% (a $100 bet wins $4,000)
Other Team: 10% (a $100 bet wins $500)
Hit me up on Twitter: @JoeFortenbaugh