May 10, 2012 -
Joe Fortenbaugh
Are the Cowboys being undervalued?
Having grown up less than an hour from Philadelphia, it's no secret that I'm not the biggest supporter of the Dallas Cowboys. Remaining impartial is a requirement of the job, but in the interest of full disclosure, when something's in your blood, it's usually there to stay.
But having spent a season hanging around the sportsbooks in Las Vegas, I've also come to understand the importance of leaving personal biases at the door. There's no room for emotion in this game. Blindly backing your favorite squad or intentionally fading your team's most hated rivals will often leave you with nothing more than a worthless slip of white paper and a nasty hangover.
Which brings us to the all-important question, would you rather be a fan or would you rather turn a profit?
I was down at the new Cantor sportsbook inside the Palms Hotel & Casino on Wednesday for the release of Cantor's point spreads for every NFL game from Week 1 to Week 16. Having spent the better part of the last 24 hours pouring over the lines, a gut instinct I had back in March slowly began transforming into something more.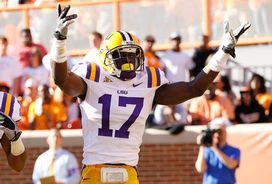 The Cowboys got aggressive on draft day and traded up to select LSU's Morris Claiborne.
I'm beginning to like the Dallas Cowboys.
I've mentioned this before, but I think what the Dallas front office has done this offseason isn't getting nearly the respect it deserves. The team ranked 23rd against the pass in 2011 and surrendered at least 100 passing yards in the fourth quarter in seven of 16 games.
The Cowboys' response? Drop $50 million on free agent cornerback Brandon Carr, trade up to land the draft's top CB prospect in Morris Claiborne and bring in linebacker Dan Connor and strong safety Brodney Pool. The team recognized their weakness and addressed the problem accordingly.
So why aren't the Cowboys getting any love in Sin City?
Here are Cantor's Week 1-Week 16 opening lines for the Dallas Cowboys:
Week 1: +3 at New York Giants
Week 2: +1.5 at Seattle
Week 3: -7 vs. Tampa Bay
Week 4: -3 vs. Chicago
Week 5: BYE
Week 6: +5.5 at Baltimore
Week 7: +1 at Carolina
Week 8: -2.5 vs. New York Giants
Week 9: +2.5 at Atlanta
Week 10: +4.5 at Philadelphia
Week 11: -7.5 vs. Cleveland
Week 12: -6 vs. Washington
Week 13: +1 vs. Philadelphia
Week 14: +1 at Cincinnati
Week 15: -1.5 vs. Pittsburgh
Week 16: +1 vs. New Orleans
Week 17: at Washington (no line available)
For the first 16 weeks of the season, Dallas opened as a favorite just six times and as a dog nine times. This is a team that has won at least eight games in six of the last seven years, made some impressive upgrades on the defensive side of the football this past offseason and still possesses an abundance of firepower on offense. Yet, they're only favored to win six of 15 football games?
This is the point in the conversation where we turn our attention to value. Whether it be a professional sports team or a relatively unknown company about to go public, the key is to examine the marketplace and determine who or what is being undervalued.
In this instance, it's the Dallas Cowboys.
After opening up the 2012 campaign on Thursday night against the New York Giants, Dallas gets nine days of rest before traveling to Seattle to take on the Seahawks. What happens if the Cardinals find a way to take down Seattle at home in Week 1? What happens if the Cowboys upset the Giants in New York on the first Thursday of the season?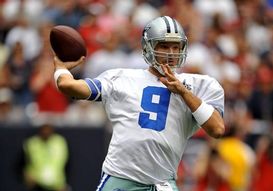 ICONFortenbaugh likes a rested Dallas Cowboys team to take down the Seattle Seahawks in Week 2.
You can bet that line will be moving towards Big D.
It's also hard to overlook the Cowboys as 1-point underdogs in road games at Carolina (Week 7) and Cincinnati (Week 14). And getting 5.5 points coming off a bye against a Ravens team that will be without star defender Terrell Suggs? I like Dallas in all of those spots as well.
A lot of things will change between now and the start of the season and we all know that one big injury can drastically alter the expectations of any franchise, but at this point in the year, I'm convinced the Cowboys are being undervalued by the bookmakers in Las Vegas.
Hell, I may even take a good, long look at the 22/1 Super Bowl odds being offered on the Cowboys over at 5dimes.com.
Just don't expect to see me wearing a Tony Romo jersey this fall.
Hit me up on Twitter: @JoeFortenbaugh