April 15, 2011 -
Joe Fortenbaugh
Are the Panthers bluffing?
Go to Google, search "NFL Mock Draft 2011" and take a look at how many results appear with Cam Newton going first overall to the Carolina Panthers.
Go ahead, I'll wait.
Now, go check out NFL.com and take notice that Bucky Brooks, Steve Wyche, Pat Kirwan and Charles Davis have all predicted Newton to the Panthers as well. Out of the five analysts who have posted mocks at NFL.com, only Brian Baldinger has someone other than Newton in the top spot (he likes LSU's Patrick Peterson).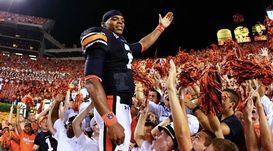 ICONSeveral teams would love to have Cam Newton. Are the Panthers one of them or are they bluffing?
Hell, even the National Football Post is currently on the Newton-to-Carolina train.
So if it's that obvious to a large portion of the NFL media that Newton is destined to wear Panther blue and black next season, then why is it the Panthers have yet to come out and officially say that he's their guy?
Because maybe, just maybe, Carolina is currently engaged in the time-honored, pre-draft tradition of misinforming the NFL community in an attempt to accomplish a publicly unknown goal.
Think about it. The Panthers hold the first pick in a draft that is now less than two weeks away. Nobody can trade up to get ahead of them and steal the player they covet the most, so what's the point of keeping their plans a secret?
Is it possible that after months of interviews, film study and due diligence the Panthers are still undecided on which player to draft?
Or, do they want everyone to think they're targeting Cam Newton so that some other quarterback-starved team in love with the Heisman Trophy winner will pick up the phone, call general manager Marty Hurney and make him an offer he can't refuse?
Remember, Carolina doesn't have a second round pick in this year's draft. After that first selection, Hurney and the Panthers won't go on the clock again until the start of the third round. In addition, this is a team that went 2-14 last season and fired longtime head coach John Fox. New boss Ron Rivera won't be expected to make the playoffs in 2011, so why not try to trade down, stockpile draft picks and begin the rebuilding process?
And if the Panthers' goal is, in fact, to trade out of the top spot and acquire more selections, Newton would be the perfect poker hand to bluff with.
This is a league that puts a heavy premium on the quarterback position and Newton is considered by an overwhelming majority to be the top signal-caller available. Conservatively speaking, at least nine NFL teams (Arizona, Buffalo, Cincinnati, Minnesota, Oakland, Seattle, San Francisco, Tennessee and Washington) could be in the market for a quarterback. By bluffing on Newton, the Panthers are representing aces and making it known to the rest of the league that the quarterback supply is about to decrease, while demand remains at an all-time high.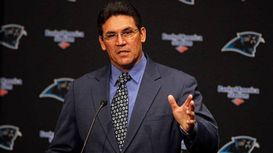 Is Rivera ready to jump ship on Clausen?
I understand that Jimmy Clausen may not be the quarterback of the future in Carolina, but the guy only started ten games as a rookie for an offense that was seriously devoid of any legitimate firepower. Why not get the 2010 second round pick some weapons and give him another chance? Is it that ludicrous to think he may have some talent?
Let me be clear that this article deserves to fall under the classification of "conspiracy theory" rather than "fact." The Panthers could very well pull the trigger on Newton come April 28, kick Clausen to the curb and look to address their other needs later in the draft.
But if Carolina is able to trade down, acquire more picks and successfully address other positions of concern (like DT and WR), this franchise will be taking a respectable first step towards being an NFC contender. This strategy may not garner the same excitement from the Carolina fan base that drafting Newton would, but St. Louis fans didn't exactly set off fireworks in the streets when the team drafted offensive tackle Orlando Pace with the first selection back in 1997.
If you recall, Pace went on to win a Super Bowl and earned seven Pro Bowl nominations during his 12 years with the Rams.
And if Newton doesn't turn out to be the savior that many are projecting he will be, the Panthers front office will likely find themselves in this exact same position three or four years from now.
Although at that time, it will probably be with a different head coach and general manager.
Hit me up on Twitter: @JoeFortenbaugh