March 06, 2013 -
Joe Fortenbaugh
Asomugha won't be cut today, despite earlier report
Eagles cornerback Nnamdi Asomugha may be on his way out the door in Philadelphia, but it looks like that parting of ways won't be happening today.
Howard Eskin of WIP94 in Philadelphia tweeted Wednesday morning that the Eagles would part ways with the ten-year veteran today. It didn't take all that long following Eskin's tweet for media members from around the country to shoot down the report. Eskin even admitted via twitter that it was a "bad tweet" and that he had "jumped the gun."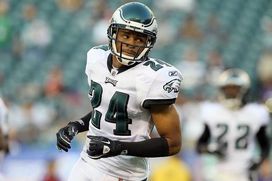 All signs point to a parting of the ways between Asomugha and the Eagles.
Still, Eskin says the move will happen and many are inclined to support that notion. Asomugha carries a 2013 cap number of $15 million and so far it appears as if both sides have been unsuccessful in an attempt to restructure the cornerback's current contract.
Having passed on using the franchise tag, that means Philadelphia could enter the 2013 season with both Asomugha and Dominique Rodgers-Cromartie no longer on the roster. DRC is scheduled to hit the open market on March 12.
Turning 32-years-old in July, Asomugha has experienced a noticeable dip in production during his two years with the Eagles. After earning a trip to Hawaii for the Pro Bowl in each of his three seasons before signing with the Birds, Asomugha watched opposing quarterbacks light him up for a passer rating of 88.6 in 2011 and a staggering 120.6 in 2012.
A new system and city might help the once-elite cornerback return to form, while it would add to the abundance of cap space the Eagles already possess. Whether or not they choose to make a big splash in free agency this year, the bottom line is that Philadelphia has the ammunition to do it.
Hit me up on Twitter: @JoeFortenbaugh