December 12, 2013 -
Joe Fortenbaugh
Bad luck, bad play, bad timing
The contract-year player is a curious creature. With an agent whispering promises of riches in the ear while the eyes focus squarely on a horizon laden with golden dollar signs, the motivation that accompanies an impending spin through the free agency pool often times serves as the catalyst for a season unlike any that have come before it.
Former NFL defensive tackle Albert Haynesworth serves as the shining example of what can be accomplished when motivation meets opportunity. In 2008, the 6-6, 350-pound defensive tackle registered a career-high 8.5 sacks, 15 tackles for loss and three forced fumbles en route to earning Pro Bowl, All-Pro and Sporting News Defensive Player of the Year honors. Haynesworth parlayed his 2008 campaign into a seven-year free agent contract with the Washington Redskins worth a staggering $115 million.
Which, as we all know, turned out to be a disastrous mistake, as Haynesworth went on to appear in just 33 games with three different teams over the next three seasons while amassing only 6.5 sacks.
Several marquee players entered the 2013 NFL season armed with the same motivation Haynesworth possessed back in 2008. But many have failed—through either bad play or bad luck—in their quests to redeem Willy Wonka's golden ticket.
Here's a look at some of those players.
BAD PLAY
1. Hakeem Nicks, WR, New York Giants: In the final season of his five-year rookie deal, Nicks has fallen well short of the expectations laid out for him in New York. Ranks 49th in the NFL in receptions (49), 26th in receiving yards (789) and is currently tied with this writer for touchdowns scored in 2013, with zero. To make matters worse, second-year wideout Rueben Randle (37-571-6) has played well enough this season to render Nicks expendable in the Big Apple. Will have a lot of questions to answer during his free agency visits this winter.
2. Josh Freeman, QB, Tampa Bay Buccaneers/Minnesota Vikings: With every reason imaginable to show up prepared, dedicated and ready to take the next step in his development, Freeman broke down mentally, choked on the field, had a falling out with head coach Greg Schiano and was sent packing in early October after just three games (2 TDs, 3 INTs, 45.7 percent completion percentage). As if that wasn't bad enough, Freeman has watched the possibility of a semi-lucrative quarterback payday go up in smoke as head coach Les Frazier and the Vikings have opted to ride the disastrous duo of Christian Ponder and Matt Cassel over the former Buccaneer.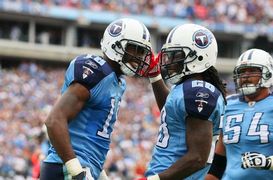 ICONThe big question now is whether or not any team would actually be interested in adding Britt to its roster.
3. Kenny Britt, WR, Tennessee Titans: If you're going to cause headaches off the field, you sure as hell better make plays on it. Britt's got the first part down cold, but appears to be on the verge of washing out of the league after a promising start that featured 84 receptions for 1,476 yards and 12 scores over his first 28 games. Britt has been so bad this season that despite appearing in 11 games, the former Rutgers standout has made just three starts, catching only eight passes for 67 yards with no touchdowns.
4. Brandon Browner, CB, Seattle Seahawks: Turns 30-years-old next August and could miss the entire 2014 campaign due to a year-long suspension for a violation of the NFL's substance abuse policy. A resolution on that matter won't be made until Christmas time, but note that Browner's latest indiscretion comes just one year after the star cornerback got hit with a four-game ban for violating the league's policy on performance-enhancing drugs. There's no question he can play, but will he be allowed to play?
5. Darren McFadden, RB, Oakland Raiders: The fourth-overall pick out of Arkansas in 2008, McFadden is just a few weeks away from completing his sixth NFL campaign, all of which have featured 13 or fewer appearances due to a variety of injuries. Turns 27-years-old in August, has 872 career rushing attempts under his belt and is averaging just 3.36 yards per carry since 2012. Further complicating matters for McFadden is the fact that the market will likely devalue his services even more if the Tennessee Titans wind up dropping former Pro Bowl running back Chris Johnson.
6. Jay Cutler, QB, Chicago Bears: The big question surrounding Cutler at the moment is whether or not the Bears will decide to shell out the heavy cheddar necessary to bring the eight-year veteran back for another cycle. But that may prove to be a difficult decision for Marc Trestman and company, who have only gotten eight starts out of Cutler this year while watching 34-year-old backup Josh McCown post a passer rating of 109.8 (third in NFL) through seven appearances. So if McCown can succeed in this system, wouldn't it make more sense to draft a rookie signal-caller in the first round at a far cheaper price rather than ride with a 30-year-old Cutler who has exactly one playoff win in his career?
7. Justin Tuck, DE, New York Giants: After notching 39.5 sacks from 2007-2010, Tuck has brought the quarterback down just 17.5 times over his last 40 games. The upside here is that with seven sacks over his last three starts, Tuck is now at 8.5 on the season and appears to be closing out the 2013 campaign on a high note. Still, the Notre Dame product will turn 31-years-old in March and has let that age show over the last few seasons.
8. B.J. Raji, DT, Green Bay Packers: Recorded 10.5 sacks and a trip to the Pro Bowl during his first three seasons in the league, but has failed to bring down the quarterback over his last 27 games and appears to have fallen out of favor in Green Bay. Currently grades out as the 44th-best 3-4 defensive end, according to Pro Football Focus.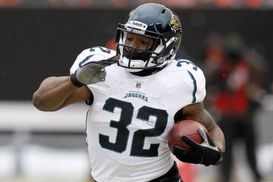 ICON2013 has proven that MJD has very little left in the gas tank.
9. Maurice Jones-Drew, RB, Jacksonville Jaguars: Has come back healthy in 2013 after appearing in just six games last year, but Jones-Drew is averaging a career-low 3.5 yards per carry this season with only one game in which the former Pro Bowler has rushed for more than 100 yards. Now has 1,778 career rushing attempts under his belt, turns 29-years-old in March and is likely to be very disappointed with what the market has to offer come free agency.
10. Michael Johnson, DE, Cincinnati Bengals: Was looking to cash in on a career-high 11.5-sack effort in 2012, but was hit with the franchise tag ($11.175 million) and forced to watch as the big money went to stud defensive tackle Geno Atkins (five-year extension worth $54.75 million). Johnson has responded b e bringing down the quarterback only 3.0 times through 12 games, which puts the 26-year-old on pace for his lowest sack total since 2010.
BAD LUCK
1. Henry Melton, DT, Chicago Bears: Recorded 13.0 sacks during a 29-game span from 2011-2012 that resulted in a trip to Hawaii for the Pro Bowl last January. Melton handled his contract situation like a true pro when hit with the franchise tag ($8.45 million) last offseason, but caught a bad break in Week 3 when the 27-year-old tore his ACL against the Pittsburgh Steelers and was lost for the year.
2. Brian Cushing, LB, Houston Texans: After starting 44 of a possible 48 games during his first three years in the league while earning Pro Bowl (2009) and All-Pro (2011) nods along the way, Cushing has played in just 12 games over the last two years thanks to season-ending ACL (2012) and LCL/broken leg (2013) injuries.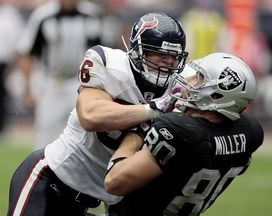 Cushing has now suffered season-ending injuries in each of the last two seasons.
3. Anthony Spencer, DE, Dallas Cowboys: Was hit with the franchise tag ($10.627 million) last offseason after notching a career-high 11.0 sacks and 95 tackles in 2012 en route to the first Pro Bowl election of his seven-year career. Spencer was angling for a long-term deal last winter, but the Dallas salary cap situation served as one of several reasons for why the team opted to use the franchise tag instead. Bad luck for Spencer, who suffered a season-ending knee injury in Week 1 and will have to combat that, as well as age issues (turns 30-years-old in January) when negotiating next offseason.
4. Jeremy Maclin, WR, Philadelphia Eagles: Had to be salivating at the good fortune of playing in Chip Kelly's high-flying offense the same year his contract was set to expire. Unfortunately, Maclin tore up his knee during training camp last summer and never made it onto the field in 2013, costing the 25-year-old millions.
5. Jermichael Finley, TE, Green Bay Packers: Through six games this season, Finley was on pace to set career marks in receptions and receiving yards before the six-year veteran was lost for the year with a potentially career-threatening neck injury. Finley underwent surgery in the hopes of continuing his professional football career, but the sizeable free agent contract that was at one time awaiting the Green Bay tight end is no more.
6. Charles Tillman, CB, Chicago Bears: Earned back-to-back Pro Bowl nods in 2011 and 2012 and recorded a career-high ten forced fumbles last season, leading many to speculate that despite his age (32-years-old), Tillman was headed for a sizeable pay raise. Notched three interceptions and three more forced fumbles in eight games this year before suffering a triceps injury in early November that has sidelined Tillman since. Should still be in relatively high demand this offseason, but at 33-years-of-age come February, the market could be limited.
Hit me up on Twitter: @JoeFortenbaugh