November 29, 2010 -
Joe Fortenbaugh
Bang, bang, bang
My apologies, but "Enter the red zone" is on hiatus this week as I've been preparing for the launch of the brand new NFP Forums. We've been working hard to create a place where you, the loyal and classy reader, can make your voice heard and sound off about anything you want.
CLICK HERE to read more about the brand new message boards and CLICK HERE to check them out. In addition, the NFP writers will be in there as well offering their opinions, thoughts and (in my case) bad gambling picks.
We'll also be busting each other's balls, so feel free to get in on the fun.
As for today's article, we're going to try something different and blast through Week 12 with no reservations. Got a problem with what you're about to read? Take it up in the message boards.
And now, you're motivational moment of the day…
Movie Videos & Movie Scenes at MOVIECLIPS.com
Dwayne Bowe is straight-up nasty. How else would you describe a guy who has scored 13 touchdowns over his last seven games? The former LSU Tiger is now the highest-scoring receiver in fantasy football, has posted five multi-touchdown games this season and has topped 100 yards receiving in each of his last three outings. In addition, after Sunday's four-touchdown performance, quarterback Matt Cassel is on the verge of cracking the top-ten in scoring amongst fantasy quarterbacks. Kansas City's success has gotten me really fired up for…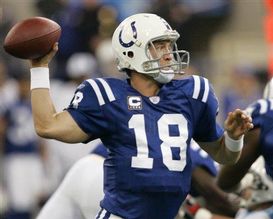 ICONManning's four interceptions on Sunday were his most in a game since the six he threw against San Diego back in 2007.
Their Week 14 rematch with the red-hot San Diego Chargers, who took down Peyton Manning and the Indianapolis Colts 36-14 Sunday night at Lucas Oil Field. The Bolts did it with defense, as Ron Rivera's crew intercepted Manning four times, taking two of them to the house for touchdowns. San Diego's defense now ranks fifth in the NFL in fantasy scoring and has some very favorable upcoming matchups (Oakland, Kansas City, San Francisco, Cincinnati, Denver).
Speaking of Peyton Manning, did you know that the Indianapolis quarterback is now 1-13 lifetime when throwing three or more interceptions? That just goes to show you how valuable this guy is to his team. It also goes to show that if Manning is having a bad day, his teammates rarely bail him out.
While it may have been a black eye for the sport (in some people's opinion), I loved how Texans wide receiver Andre Johnson went ballistic on Titans cornerback Cortland Finnegan. Houston won the game 20-0 with Johnson catching nine passes for 56 yards and a touchdown on 11 targets before being ejected, which likely means the Pro Bowl wideout wasn't frustrated with his lack of production. Finnegan is known as a dirty player and trash-talker, so clearly he said/did something to fire up the normally quiet and reserved Johnson. Whatever it was, it led to the Titans cornerback getting his ass kicked on national television. What do you think the suspension will be for this rumble?
Is there a more underrated player in the NFL right now than Peyton Hillis? The guy is averaging a rock-solid 4.5 yards per carry and currently ranks ninth in rushing yards, second in rushing touchdowns and second in scoring among fantasy running backs. The Cleveland bruiser was at it again in Week 12, rushing for 131 yards and three touchdowns in the Browns' 24-23 win over a Carolina Panthers team that ranks 14th in the league in total defense. In two weeks Hills gets a crack at the league's 32nd ranked run defense in the Buffalo Bills. 200+ yards is a definite possibility.
Stop complaining about Stevie Johnson's overtime touchdown drop that would have won Buffalo the game. All that catch would have done is screw up the Bills' draft position heading into the offseason. Johnson currently ranks in the top-11 in receptions, receiving yards, touchdowns and fantasy points among wide receivers, so get over the fact that he made a mistake. This guy came out of nowhere to become one of the NFL's best up-and-coming wideouts and he gives the 2-8 Bills a legitimate No. 1 receiving threat. This situation will only make him better.
Speaking of the Bills, I'm starting to regret making that preseason bet that they would win less than 5.5 games this season. While it looks certain to come true (Buffalo must go 4-1 over their final five games for me to lose), I no longer enjoy rooting against this football team. At 0-8, it would have been easy for Chan Gailey's crew to quit on the season, but these guys keep showing up week after week. Ryan Fitzpatrick is proving that he can handle the starting job (247.3 passing yards per game, QB Rating of 85.2) and is obviously a must-start fantasy option each week.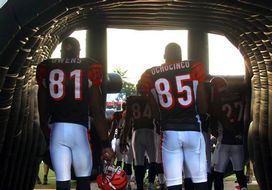 ICONThese two make a lot of headlines. Sadly, it rarely has anything to do with winning.
Despite having the exact same record (2-9), the polar opposite of the Buffalo Bills would be the Cincinnati Bengals. This team is the proud owner of an eight-game losing streak and has officially stopped showing up to play football. This is a squad with no leadership, no guts and no pride. It's time for Marvin Lewis to go and it's time to smash this team to pieces and begin the rebuilding process. Let T.O. and Ocho have their reality show. Nobody's watching that, just like nobody is going to watch this team play football during the final five weeks of the season.
Credit the Miami Dolphins for playing to their strength and attacking their opponent&rsqu o;s weakness in Sunday's 33-17 win at Oakland. The Raiders rank 28th in the NFL in run defense (133.7 yds/gm), so the Fish decided to run the football 49 times, which resulted in 186 yards and one touchdown. Unfortunately, Ronnie Brown (24-85-0) and Ricky Williams (20-95-1) continue to limit each other's fantasy upside, meaning both players can only be viewed as flex options against mediocre run defenses.
After Sunday's 20-17 win over the Green Bay Packers, Matt Ryan is now 19-1 in his three-year career at the Georgia Dome. The Iceman completed a ridiculous 24 of 28 passes for 197 yards and one touchdown in the win, moving him to ninth in scoring among fantasy quarterbacks. If this team ends the year as the NFC's top seed, good luck trying to knock them out of the playoffs.
Want to know the secret to Atlanta's success? This team has gone four straight games without committing a turnover. The Falcons now rank second in the NFL in turnover differential (+11) and if you want to know how important ball security is in the NFL, take a look at this:
Turnover Differential: Top-Five
Philadelphia: +14 (7-4)
Atlanta: +11 (9-2)
New England: +11 (9-2)
Pittsburgh: +11 (8-3)
Tampa Bay: +8 (7-4
Combined Record: 40-15 (.727)
Turnover Differential: Bottom-Five
Dallas: -7 (3-8)
Arizona: -8 (3-7)
Carolina: -8 (1-10)
Minnesota: -12 (4-7)
Jacksonville: -13 (6-5)
Combined Record: 17-37 (.315)
In need of some help at the tight end position? Go get Kevin Boss, who caught three passes for 74 yards and a touchdown on a team-high eight targets Sunday vs. Jacksonville. With wide receivers Steve Smith and Hakeem Nicks on the shelf due to injuries, expect quarterback Eli Manning to keep looking Boss' way.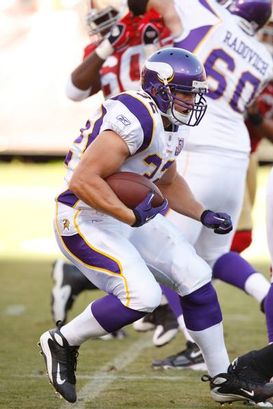 ICONMeet Adrian Peterson's backup: Toby Gerhart.
More great news out of Minnesota as running back Adrian Peterson suffered a sprained ankle in Sunday's 17-13 win over Washington. The Pro Bowler is slated to undergo an MRI on Monday, so we'll have more on this story for you later. As of right now, get your ass to the waiver wire and make a move for running back Toby Gerhart, who rushed for 76 yards and a touchdown on 22 carries in A.P.'s absence. Peterson could be ready to go next week vs. Buffalo, but it's still better to be safe than sorry.
And while you're on the waiver wire, don't be scared to make a move for Seahawks wideout Ben Obomanu, who hauled in five passes for 159 yards and a touchdown on a team-high six targets in Sunday's 42-24 loss to the Kansas City Chiefs.
Anyone plan on watching Monday night's thrilling showdown between the Arizona Cardinals and San Francisco 49ers? Even if you opt out of this NFC Championship game preview, you still have a chance to win a Procter & Gamble gift bad courtesy of the NFP if you can pick the winner of the game (against the spread) and have the closest guess to the total amount of points that will be scored between the two teams. Leave a comment below with your pick and I'll email the winner on Tuesday.
Current Monday night record: 7-5
Opening Line: San Francisco -1/39.5
Current Line: San Francisco -2/41.5
Pick: There's nothing better than trying to find a winner in a game that features two losers. The Cardinals haven't won a game since October 10th, but they're a live dog tonight at home. I'll take Arizona.
Who ya got?
Hit me up on Twitter: @JoeFortenbaugh
Win cash today playing fantasy football with the NFP and FanDuel.