July 28, 2011 -
Barry Dorey
Bargain shopping
A little over two years ago, defensive tackle Albert Haynesworth was the most coveted free agent in football. One of the league's most dominant defenders, Haynesworth parlayed a career-high 8.5 sacks in 2008 into a seven-year, $100 million deal with the Washington Redskins.
After 20 games, that relationship has come to a costly conclusion.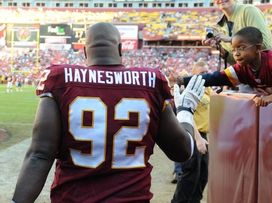 ICONHaynesworth didn't start a single game for the 'Skins in 2010.
Adam Schefter of ESPN reports that the 30-year-old defensive tackle has been traded to the New England Patriots in exchange for a fifth-round pick in 2013.
The move signals the end of one of the most expensive mistakes in NFL history. In 20 games with the Redskins, Haynesworth made just 12 starts and recorded only 6.5 sacks. In addition to his lack of production on the field, Haynesworth was a chronic problem in the Washington locker room, going so far as to attempt to get his teammates to show up late for a 2009 practice on Christmas day.
And how could we forget the multiple arrests?
For the Patriots, this move will no doubt be interpreted as a very shrewd business deal.
In exchange for a fifth-round pick that won't be used until approximately two years from now, New England just acquired a two-time All-Pro selection and a real game-changer on defense. The very real possibility now exists that Haynesworth and All-Pro Vince Wilfork could be playing next to each other on the same defensive line, should New England decide to use a four-man front and move Wilfork away from his natural position at nose tackle.
That would be 660 pounds of Pro Bowl beef clogging up the middle on Sundays...as long as Haynesworth feels like playing.
However, this isn't the first time the Patriots have acquired a former Pro Bowler in exchange for a late-round pick. In 2007, Belichick and the Pats sent a fourth-round selection to the Oakland Raiders for wide receiver Randy Moss.
Later that year, Moss set an NFL record for touchdown receptions in a season.
Was this a good move for the Patriots? Let us know in the NFP Forums!
Hit me up on Twitter: @JoeFortenbaugh