February 21, 2012 -
Joe Fortenbaugh
Baylor moves pro day so RGIII, Luck won't have to share spotlight
In what appears to be nothing more than an interesting coincidence, Baylor and Stanford were both originally scheduled to host their school's respective pro day workouts on March 22.
The good news is that—per Adam Schefter of ESPN—Baylor has made an adjustment and now star quarterbacks Robert Griffin III and Andrew Luck will not be working out on the same day, avoiding a scheduling nightmare for the Indianapolis Colts.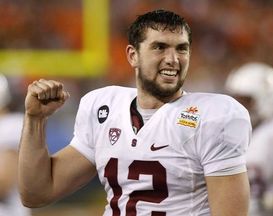 ICONIs Luck headed for Indy, or will the Colts look to RGIII as the new face of their franchise?
It's also good news for any networks that plan on devoting 3-4 hours of coverage to break down how each prospect throws the football in shorts and a tee shirt.
Baylor's workout is now scheduled to take place one day earlier on March 21.
With Peyton Manning expected to be 86'd from Indianapolis sometime in the near future, the prevailing thought process is that Luck is headed for a helmet with a horseshoe emblem emblazoned on each side come late April.
But the Colts would be making a mistake if they didn't exercise due diligence and take a good, long look at what Griffin has to offer. Having both workouts scheduled for the same day would have made it impossible for key decision-makers within the Indianapolis front office to get a proper look at each propect.
We now turn our attention to the NFL Combine and wait to see if either Griffin or Luck—or both—choose to throw for scouts at Lucas Oil Stadium later this week or opt to wait for their respective pro days.
Hit me up on Twitter: @JoeFortenbaugh