January 27, 2011 -
Joe Fortenbaugh
BBQ domination (video)
MOBILE—As Bunting and I sit stranded in the Mobile airport Thursday afternoon due to the northeast's most recent Thundersnow attack, I figured now was as good a time as any to write something up regarding what non-football action goes on in Alabama during Senior Bowl week.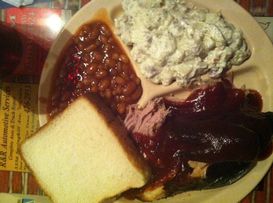 Pulled pork, BBQ chicken, potato salad, baked beans and sweet tea.
Talk to any scout, front office executive, coach or media member and one of the first things they'll say they love about Mobile is the food.
Specifically, the barbeque.
Wes and I learned about "The Brick Pit" in 2010 after seeing the delectable BBQ hotspot featured on the Travel Channel's "America's 100 Tastiest Places to Chowdown" episode.
But rather than try to put into words the culinary magic that takes place at 5456 Old Shell Road, we took some pictures and shot a quick video for your enjoyment.
Editor's note: Despite a six-minute head start, Fortenbaugh watched Bunting destroy the same amount of food five minutes faster.
-Here's Jerry Edwards, the man who operates the smoker:
Hit me up on Twitter: @JoeFortenbaugh