March 11, 2014 -
Joe Fortenbaugh
Bearing down
The Chicago Bears wanted a pass rusher. The Oakland Raiders were prepared to let their best pass rusher leave town. The free agent market opened and the marriage predicted by many was consummated.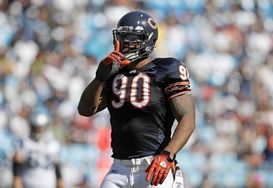 With Houston in the fold, it looks like Julius Peppers is headed for a new city.
Four-year veteran defensive end Lamarr Houston has agreed to terms with the Chicago Bears on a five-year deal worth $35 million with $15 million guaranteed, according to Adam Schefter of ESPN. The move upgrades a Chicago pass rush that generated just 31 sacks in 2013, which was tied with the Jacksonville Jaguars for worst in the NFL.
Houston, a 6-3, 300-pounder out of the University of Texas, is expected to take the spot soon-to-be vacated by veteran Pro Bowler Julius Peppers. In four seasons with the Raiders, the 26-year old appeared in 64 of a possible 64 regular season games, notching 16.0 sacks (career-high 6.0 in 2013), 47 quarterback hits and 37 tackles for loss.
At 34-years-old, the writing has been on the wall for more than a month in regards to Peppers, who amassed just 7.0 sacks in 2013, his worst single season output since 2007. In addition, Peppers has a cap number of $18.183 million for 2014 and $20.683 million for 2015. On Tuesday afternoon, multiple reports surfaced indicating the Bears were trying to trade Peppers prior to the start of the new league year.
Now that Chicago has addressed one of their biggest concerns, the team's attention can shift to the backend of a defense that ranked 31st in total scoring last season (29.9 pts/gm).
Hit me up on Twitter: @JoeFortenbaugh