March 12, 2013 -
Joe Fortenbaugh
Bears looking to address offensive line woes
Since 2010, only the Arizona Cardinals (162) have surrendered more sacks than the Chicago Bears (149). But the big difference between the two teams during that time span is that while the Cardinals have toiled away in mediocrity, the Bears have been a legitimate playoff contender.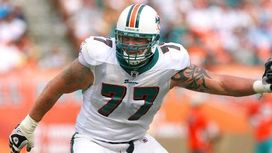 Former Miami offensive tackle Jake Long appears to be on Chicago's radar.
Perhaps that's why multiple reports suggest that the Bears plan to make some serious upgrades along the offensive line when the free agent market opens at 4:00pm EST on Tuesday.
Maybe just being recognized as a contender is no longer good enough.
First came the news from our own Brad Biggs of the Chicago Tribune that the Bears are interested in making a move for right tackle Phil Loadholt, who spent the first four seasons of his career with division-rival Minnesota. Now, Fox Sports.com's Alex Marvez reports that Chicago is also keeping an eye on free agent tackles Jake Long (Miami) and Jermon Bushrod (New Orleans).
Long is in the market for a lucrative payday, but likely won't get it as the 27-year-old is coming off the worst season of his five-year career. Bushrod is coming off back-to-back Pro Bowl nominations, but the Saints have made it known that he is their top priority this offseason.
With the Bears seemingly tired of watching Jay Cutler spend Sunday afternoons lying flat on his back, the organization may be spending their Tuesday afternoon doing something to rectify that problem.
Hit me up on Twitter: @JoeFortenbaugh