January 18, 2011 -
Joe Fortenbaugh
Beer Pong Trick Shots (video)
During my law school glory days in San Diego, I spent the second year of my graduate studies residing at an old, one-story beach house on Cohasset Court in South Mission Beach with two of my classmates.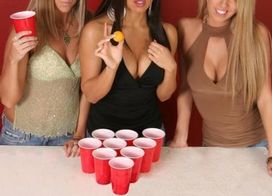 Beer Pong: A game that combines athleticism with alcohol.
The house was ideally situated less than 100 yards from the beach and roughly 50 yards from Mission Bay. But more importantly, this little slice of heaven had a spacious patio out front that was surrounded by bamboo and featured a four-foot waterfall in the northwest corner.
It was here that we hooked the locals on a glorious game known as beer pong.
Less than three days after moving into the humble Southern California abode, my roommates and I built a beer pong table (studies be damned) that remained out front for the duration of our ten-month lease. Some would argue that the crudely made table detracted from the delightful ambience our landlords had spent time and money upgrading shortly before our arrival.
Fast-forward a few weeks to Labor Day Weekend 2004, when a full-blown beach party turned into a rather intense six-hour beer pong tournament.
I remember (vaguely) at one point draining five of my first six shots in a late-round game and quickly proclaiming myself one of the greatest that ever lived.
After watching this video on Monday, I now finally realize what an asinine statement that was.
Hit me up on Twitter: @JoeFortenbaugh