August 05, 2011 -
Joe Fortenbaugh
Bengals bag a tight end
They've already got Jermaine Gresham, but the Bengals probably figured the more tight ends, the better.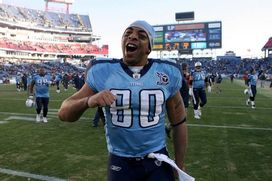 Bo Scaife is headed to Cincinnati.
Mike Florio of ProFootballTalk.com is reporting that veteran free agent Bo Scaife has agreed to a one-year deal with the Bengals worth $1 million.
Scaife—a six-year veteran out of Texas—spent the first six years of his career with the Tennessee Titans where he caught 251 passes for 2,383 yards and 12 touchdowns. With the Titans making the transition at tight end to the younger Jared Cook, Scaife has been free the past two weeks to try and find a new home.
He'll be backing up 2010 first-round selection Jermaine Gresham, unless the Bengals plan on using multi-tight end sets with rookie quarterback Andy Dalton.
Hit me up on Twitter: @JoeFortenbaugh