Double digit road favorites
52.5 percent. That's the number to aim for if you're looking to break even betting sports over the long haul. What qualifies as an "F" in classrooms around the country signifies the most modest level of success at the University of Gambling. Hit 52.5 percent in Russian History before the final and you're better off withdrawing from the class. Hit 52.5 percent betting sports and you've got a glimmer of hope for the future.
[ Read our 2020 Update on Double Digit Road Favorites and how to bet them]
There's an inordinate amount of work that goes into reaching the 52.5 percent barrier. You've got to gut through the losing streaks and stay humble during the heaters. Discipline, money management and beating the closing number are all critical. And if you do it all correctly, you still have yet to turn a reasonable profit, which begins around the 54 percent mark.
"54 percent gives you a 3 percent-ish return on investment, so if you bet $500,000 in volume during a year, $15,000 is your profit," two-time LVH SuperContest winner Steve Fezzik told the NFP on Monday. "But it's very tough trying to make a good living betting only on the NFL. Professional football should be viewed as only a part of your advantage play."
Advantage. That's the operative word because it's something every sports bettor needs to acquire in some way, shape or form if they're going to turn a profit like Fezzik, who hit on 66 percent of his SuperContest selections from 2008-2009 to become the only back-to-back winner in the contest's history. The sports books hold an advantage over the gamblers because of the 10 percent vig (lay $110 to win $100). The gamblers, in turn, need to locate trends and acquire yet-to-be-made-public information in order to neutralize the built-in edge possessed by the house.
One of those trends can be uncovered by examining the results of games featuring double-digit road favorites.
Over the last 15 years (1998-2012), there have been 78 instances in which an NFL game (regular season or playoffs) featured a road team that was favored by ten or more points. And in those 78 games, the double-digit road favorite covered the spread only 30 times (30-46-2, .394). Had you laid $110 to win $100 on the home dog in every single one of those 78 contests, you'd currently be up $1,300.
Shrink that sample size down to the last five years and you get a double-digit road favorite record of just 10-21 (.322) against the spread, which puts this trend at an impressively profitable 67.8 percent since 2008 (see chart at end of this story).
Further, had you blindly bet double-digit home underdogs in every occurrence since 1998, you'd have turned a profit in nine of the last 15 seasons backing this trend alone.
DOUBLE-DIGIT ROAD FAVORITES BY SEASON SINCE 1998
SU: Straight-up record
ATS: Against the spread record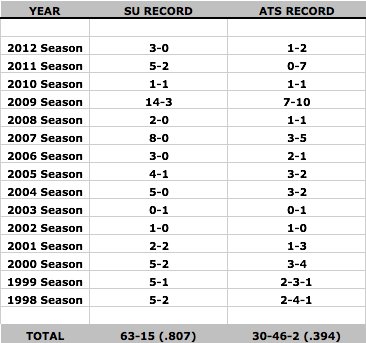 But here's the rub: Now that we have this information serving as a small building block for how to gain an advantage during the NFL season, we need some games that fit the trend to hit the board. And the big problem at the moment is that there isn't a single game in Las Vegas that features a double-digit road favorite.
But that doesn't mean we won't get an opportunity to put this research to good use in 2013. Plenty of the opening numbers are going to change as the ebb and flow of the regular season takes its course. And when that happens, we'll be there to take a shot.
After all, there's been at least one game featuring a double-digit road favorite played every season since 1989, which is as far back as our database would allow us to explore.
Hit me up on Twitter: @JoeFortenbaugh