August 23, 2011 -
Joe Fortenbaugh
Big blow: Giants lose Terrell Thomas for the season
It's safe to say the 2011 season hasn't exactly gotten off to the start Tom Coughlin and the New York Giants were expecting.
The team has been publicly beefing with defensive end Osi Umenyiora about his contract situation for the last few weeks and didn't add to their fan base when they failed to sign both Plaxico Burress and Steve Smith.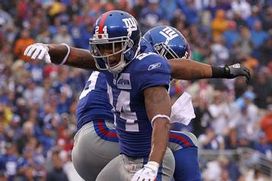 The Giants secondary could be in for a long season.
And don't forget that first-round draft pick Prince Amukamara is out until October with a fractured foot.
So after all that, you'd have to imagine that karma would be on the Giants' side and that the team would be in for some positive vibes.
You'd be wrong.
Cornerback Terrell Thomas—one of the top up-and-coming defenders in the NFC—is expected to miss the entire 2011 season after tearing the ACL in his right knee during the second quarter of Monday night's blowout win over the Chicago Bears, per Suzy Kolber of ESPN.
The 26-year-old from USC has started all 32 games over the last two years for New York, recording ten interceptions and 186 tackles in the process.
The injury leaves Big Blue with Corey Webster and Aaron Ross as the team's starting cornerbacks heading into Week 1.
What do you think the Giants would have to send to Philadelphia to acquire Asante Samuel?
Hit me up on Twitter: @JoeFortenbaugh