February 01, 2012 -
Joe Fortenbaugh
Big Blue is the popular pick for Sunday's Super Bowl
INDIANAPOLIS—Peyton Manning's future and Rob Gronkowski's ankle may be dominating the headlines in Indianapolis this week, but believe it or not, people are also discussing who will win Sunday's game.
Shocker, I know.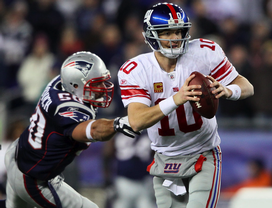 Residents of New York won't be the only people cheering for the Giants this weekend.
Sarcasm aside, you'd be hard pressed to find someone here at the Super Bowl willing to pick the Patriots. A high percentage of media members I've spoken with this week will be backing New York come Sunday, which has to make you wonder when the last time was that so many people were willing to go against Tom Brady and Bill Belichick?
1,800 miles away in a little patch of desert known as Las Vegas, the situation appears similar as sportsbooks around town are seeing more action come in on the boys from New York than they are the Patriots.
Johnny Avello, the Director of Race & Sports Operations for the Wynn and Encore, told the National Football Post Wednesday afternoon that approximately 85% of the action that has come into his shop is backing New York. The Wynn currently has Sunday's line at New England -3 (even) with the Giants +3 at -120.
"The sharp money was interested in the Giants +3.5," Avello told the NFP. "But not so much at +3."
According to the NFP's Sportsbook Spy, 60% of the bets tracked are backing the Giants, with 51% on the under (54.5).
It will be intriguing to see where the line closes after the betting public comes to the window this weekend. Our friend Jimmy Vaccaro—Race & Sports Director for Lucky's in Las Vegas—told David Purdum of Covers.com that he estimates 90% of the total handle will be placed Saturday and Sunday.
The line doesn't say it, but Tom Brady is heading into Super Bowl XLVI as the underdog in the eyes of the public.
Hit me up on Twitter: @JoeFortenbaugh