July 28, 2011 -
Barry Dorey
Big Easy bound
Thursday afternoon a report surfaced indicating that the race to land the services of free agent running back Darren Sproles was down to three teams.
You can go ahead and eliminate the San Diego Chargers and Philadelphia Eagles from that list, because the New Orleans Saints have officially crossed the finish line in first.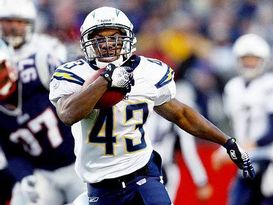 Darren Sproles will be reunited with Drew Brees in New Orleans.
Alex Marvez of FOX Sports is reporting that Sproles and the Saints have reached an agreement on a two-year contract. In New Orleans, the 28-year-old speedster will be reunited with quarterback Drew Brees, who he played during his 2005 rookie year in San Diego.
Having sent dual-threat running back Reggie Bush to the Miami Dolphins in a trade Thursday morning, the Saints didn't waste any time bringing in a pass-catching specialist to take his spot. During his last two seasons with the Chargers, Sproles hauled in 104 receptions for 1,017 yards and six touchdowns.
In the Big Easy, the former Kansas State standout will join a suddenly impressive-looking backfield that already boasts former Heisman Trophy winner Mark Ingram as well as veteran Pierre Thomas.
This year's race to win the NFC South is going to be a good one.
UPDATE: Per Kevin Acee of the San Diego Union-Tribune, it's actually a four-year deal with $6 million guaranteed.
Hit me up on Twitter: @JoeFortenbaugh