September 19, 2011 -
Barry Dorey
Big points mean big $$$ for sports bettors
LAS VEGAS—As the final seconds ticked off the clock at the Georgia Dome Sunday night and the Atlanta Falcons began celebrating their 35-31 shootout win over the Philadelphia Eagles, I couldn't help but feel a bit triumphant myself.
I had gotten down on the OVER at 49 and was set to cash a winning ticket, thanks to a combined 66 points from the two high-powered NFC offenses.
And I wasn't alone.
Around the country, squares just like me were cashing tickets and logging-in to online accounts to carefully examine their newly fattened balances. At offshore shop Sportsbook.ag, 82% of the bets placed on the Atlanta-Philadelphia total were backing the OVER.
To the disdain of bookmakers around the world, the public had once again gotten paid.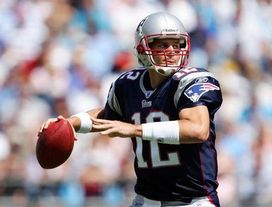 OVER bets on Tom Brady and the New England Patriots are 2-0 this season.
Entering Monday night's showdown between the St. Louis Rams and New York Giants, NFL OVERS were a surprising 21-8-2 (.724) through the first two weeks of the season. That means if you had laid $110 to win $100 on every OVER posted for the first 31 games, your bankroll would be looking good at +$1,220.
Not bad, right?
But here's the interesting part: The Atlanta-Philadelphia game was not an anomaly. OVERS have been cashing early and often this year and have shown no signs of slowing down.
"It's no surprise that the rash of OVERS haven't helped us at all this NFL season," Caesars Race & Sports Analyst Todd Fuhrman told the NFP on Monday. "What's been more troubling is that the total has gone over in all five primetime games thus far and that's when the public does their damage."
Coming off a lockout-shortened offseason, you couldn't go 30 minutes without hearing one of the talking heads on television proclaim, "defenses come together faster then offenses," and, "expect a lot of low-scoring games early in the season."
Oops.
Ten of the first 31 games of 2011 have seen 50 or more total points go up on the scoreboard, while nine matchups have featured at least one team dropping 35 or more.
And the public has taken notice.
Through two weeks, eight games over at Sportsbook.ag have had a staggering 75% or more of the public backing the OVER. For those eight games, the public is 6-2.
"If these high scoring trends continue with a continued league wide emphasis on offense, you're going to see bookmakers making major adjustments to stem the tides moving forward," said Fuhrman.
Hopefully for guys like me, there's still some time left before that happens.
CLICK HERE to check out the NFP's Sportsbook Sniper.
Hit me up on Twitter: @JoeFortenbaugh