March 15, 2012 -
Joe Fortenbaugh
Bills get their man, sign Mario Williams
It took close to three full days, but the Buffalo Bills succeeded where so many teams often fail during free agency.
They closed the deal.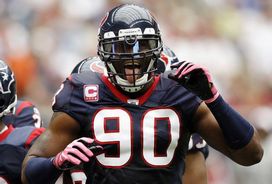 It took almost three days, but Mario Williams is finally a member of the Buffalo Bills.
The details of the mega-contract that will make free agent defensive end Mario Williams the highest-paid defensive player in NFL history have not yet been made available, but the team has announced that they will hold a press conference Thursday at 1:30pm ET to announce the deal.
UPDATE: Adam Schefter of ESPN reports it's a six-year deal.
You can't help but tip your cap to the Buffalo front office. They were the first team to get the highly-coveted Williams in for a visit and despite reports on both Tuesday and Wednesday that the defensive end was scheduled to take other trips, the Bills never let that happen.
In Williams, the Bills have acquired one of the league's top 4-3 defensive ends who was responsible for 43.5 sacks from 2007-2010. The 27-year-old former first overall draft pick from North Carolina State recorded five sacks in five games with Houston last season before suffering a torn pectoral muscle against the Oakland Raiders.
Buffalo's defensive line suddenly looks very formidable, with Williams joining defensive tackles Marcell Dareus and Kyle Williams along with fellow defensive end Chris Kelsay.
The Bills also hold the tenth overall pick in this year's NFL draft.
Hit me up on Twitter: @JoeFortenbaugh