July 31, 2011 -
Barry Dorey
Bills jump into competition for Nick Barnett
Nick Barnett looks like he might have an interesting decision on his hands: stay in the NFC North and take some shots at his former team, or head to the AFC East to face the likes of Tom Brady and company multiple times per year.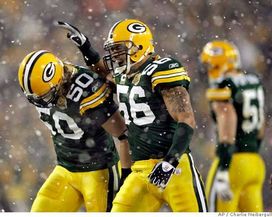 Is Nick Barnett Buffalo bound?
After meeting the Lions on Saturday, the free agent linebacker went to Buffalo to meet with the Bills, per a tweet from Bills receiver David Nelson, who had this to say on Saturday night (via Buffalo Rumblings):
"Met @NickBarnett at dinner tonight. Great guy and phenomenal player. Good luck in your decision bro".
The 30-year-old Barnett started 107 games in his eight seasons with the Green Bay Packers before a Week 4 wrist injury cost him the remainder of his 2010 campaign.
The Lions have already signed linebacker Justin Durant (Jacksonville) this past week, while the Bills have been relatively quiet except for the acquisition of quarterback/wide receiver Brad Smith.
UPDATE: With Stephen Tulloch signing in Detroit, the Lions are likely out of the race for Barnett.
Hit me up on Twitter: @JoeFortenbaugh